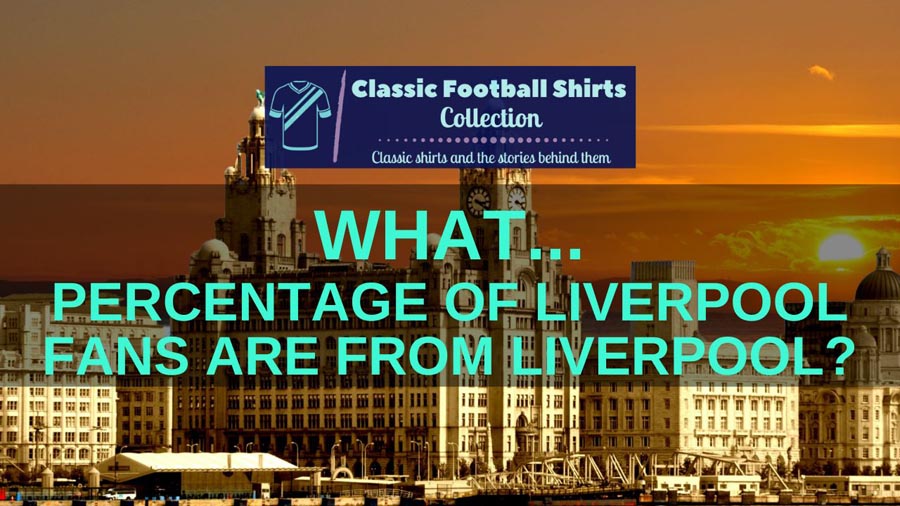 I am fully aware that these types of blog posts are often controversial or stoke up all kinds of debates.
A lot of information is purely anecdotal but there are a few surveys out there that at least provide slightly more substantive data.
Nevertheless, I will do my best to answer the title question of what percentage of Liverpool fans are from Liverpool?
And at the same time I will touch on how many Liverpool season ticket holders live in Liverpool and how many Liverpool fans live in Liverpool.
So let's see how this turns out…
What Percentage Of Liverpool Fans Are From Liverpool?
It is difficult to estimate the exact number of Liverpool fans that are from the city. However, in December 2020, it was revealed that 5,832 of Liverpool's 27,000 season ticket holders had Liverpool postcodes. This compares to 25,647 of Everton's 30,500 season ticket holders who had Liverpool postcodes.

To try and answer the questions about Liverpool's support and where it is based I am going to look at various surveys in recent years.
Now I am fully aware that every survey can be picked apart, so I am not quoting these details as fact, merely a starting point for the discussion…
2006 Premier League Survey
I know we are going back a little bit here, but there were some interesting findings in the Premier League's National Fan Survey of 2005/06.
In total 24,650 completed questionnaires were analysed covering a range of subjects from the age and gender of fans to the merchandise expenditure and the volume of live football on TV.
A section on Fan Characteristics provided some interesting information on fans' behavioural patterns. This included:
44% of Liverpool fans had been going to games for 25+ years.
This was the joint second-lowest figure in the Premier League. West Ham, Sunderland, Manchester City, Chelsea and Birmingham were all joint top with 58% of fans having been going to games for 25+ years.
26% of Liverpool fans lived less than 10 miles from the ground.
This placed Liverpool 16th of the 20 Premier League teams. The team with the highest proportion of fans living within 10 miles of the ground was Wigan at 79% (next was Bolton at 58%). At the opposite end of the spectrum, only 15% of Arsenal fans lived within 10 miles of the ground.
40% of Liverpool fans lived over 50 miles from the ground.
This was the second-highest number in the survey, only Manchester United with 43% of their fans living over 50 miles away had more. By contrast only 6% of Wigan fans lived over 50 miles from the ground.
Summary
According to the Premier League fan survey of 2006, Liverpool have a higher proportion of fans from outside their own city than almost every other comparable Premier League club.
RELATED ===> Revealed: The Best Retro Liverpool Shirts
2013 Premier League Survey
In 2013 the Premier League commissioned another report, although the full details of this are much harder to find so I had to rely on a summary of some of the findings in this Liverpool Echo article.
In short, in 2013:
50% of Liverpool fans live within 10 miles of Anfield. This compares to 54% of Everton fans living within 10 miles of Goodison.
One in 7 Liverpool fans travel from outside Merseyside to support the team. This is compared to 1 in 10 for Everton.
In terms of fans being born locally the report summarised:
"On Merseyside the 'local' club tends to be Everton, where 73 per cent of fans are locally born in comparison to the 57 per cent from Liverpool."
Summary
From the limited information I could find this again suggests Liverpool have a large proportion of fans from outside of the city.
2016 YouGov Report
A report by the British international internet-based market research and data analytics firm YouGov in 2016 profiled over 37,000 football fans.
The report revealed that Liverpool, along with Manchester United, have the lowest concentration of support in their local area.
Top at the time for local support were Swansea and Stoke City.
The report showed that 29% of Liverpool's fans at the time came from the North West, compared to 48% of city rivals Everton's fans coming from that area.
Summary
This also backs up what we have learned so far that Liverpool's fan base is not as localised as most other teams in the Premier League.
RELATED ===> Why Do Irish People Support Liverpool?
2020 Planning Application by Everton For Their New Stadium
In January 2017 Everton chairman Bill Kenwright revealed the club had identified a site on the Bramley-Moore Dock for a new stadium.
Over the ensuing years, the club has revealed more detail about the scheme in the planning application documents it has had to submit to the City Council.
One such document was a Social and Heritage Value Report.
This saw 2,500 Merseyside residents surveyed on how they valued the Bramley-Moore Dock site, which was at the time a UNESO World Heritage Site.
As well as summarising these findings the report also stated:
"Half of the sample considered themselves Liverpool Football Club supporters and around a quarter considered themselves Everton supporters, which broadly aligns with what is known about the split across the city, giving greater confidence that the results are based on a balanced sample of Liverpool, Everton, and non-football supporters."
Summary
This first piece of purely local research indicates that Liverpool has a high level of local support, albeit the sample size is smaller than the previously mentioned surveys.
RELATED ===> Do Liverpool Fans Support England?
2020 Season Ticket Statistics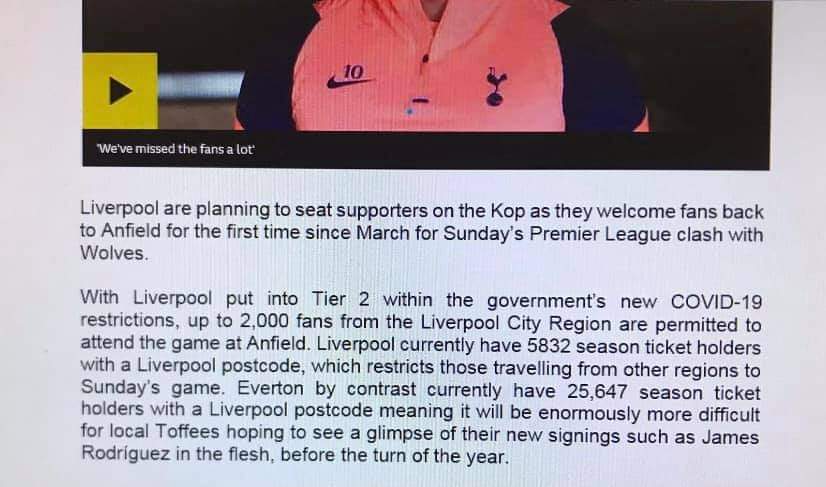 An interesting statistic was shared in a BBC article as football clubs prepared to welcome fans back to stadiums as Government regulations allowed COVID restrictions to be eased.
The article revealed that of Liverpool's 27,000 season ticket holders 5,832, or 21.6%, had Liverpool postcodes, in comparison to 25,647, or 84.1%, of Everton's 30,500 season ticket holders.
Of course, this does not take into account that Anfield has a capacity of 53,400, so that leaves 26,000 supporters unaccounted for.
But it does give a definite answer to the question of how many Liverpool season ticket holders live in Liverpool. As of December 2020 it was 5,832.
Summary
Just over 20% of Liverpool season ticket holders are from a Liverpool postcode area.
MORE DETAILS: AVFTT Forum (and BBC article image above)
Final Thoughts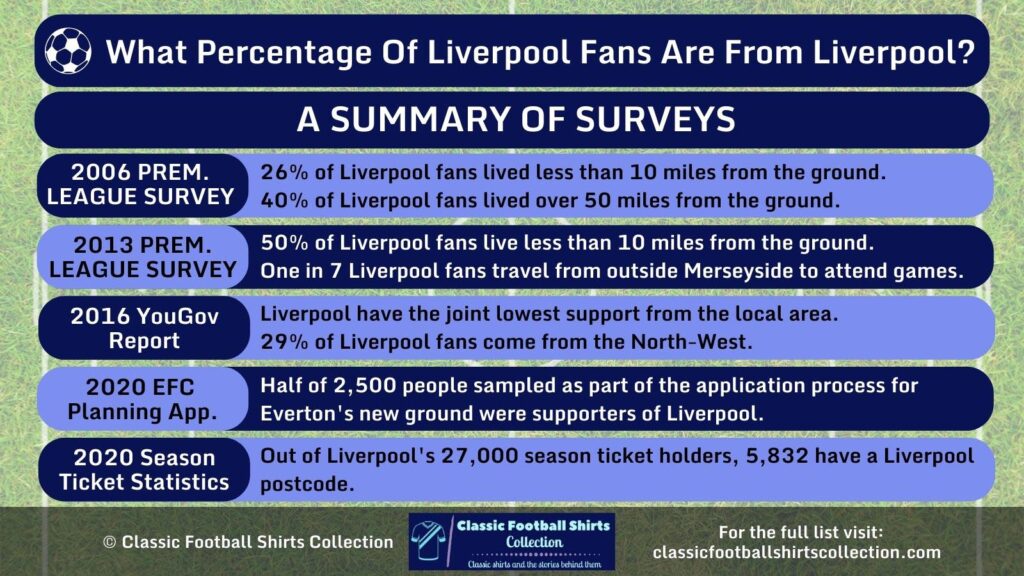 There were three main questions I was hoping to answer with this article:
QUESTION 1: What percentage of Liverpool fans are from Liverpool?
There is a varying range of figures here. From 50% living within 10 miles of Anfield according to the 2013 Premier League survey, to 29% of Liverpool fans coming from the North-West according to the 2016 YouGov survey, to half of the local area considering themselves Liverpool fans according to Everton's own research in the planning stages for their new stadium.
I would hazard a guess and say it is a lower percentage, purely because Liverpool have such a huge fanbase worldwide that it dilutes the final figure.
For instance, if you have 40million fans worldwide, then even if all 500,000 people living in the city of Liverpool supported the club, it still works out at only just over 1%!
QUESTION 2: How many Liverpool fans live in Liverpool?
Many of the same sentiments mentioned above ring true for this question, so without a survey of everyone in Liverpool it is very difficult to say.
QUESTION 3: How many Liverpool season ticket holders live in Liverpool?
From the news story that gained extensive publicity in December 2020, then we know 5,832 Liverpool season ticket holders have a Liverpool postcode.
But as I say a lot of the information here is open to debate and very subjective. I hope this sheds some light on the situation though.
---