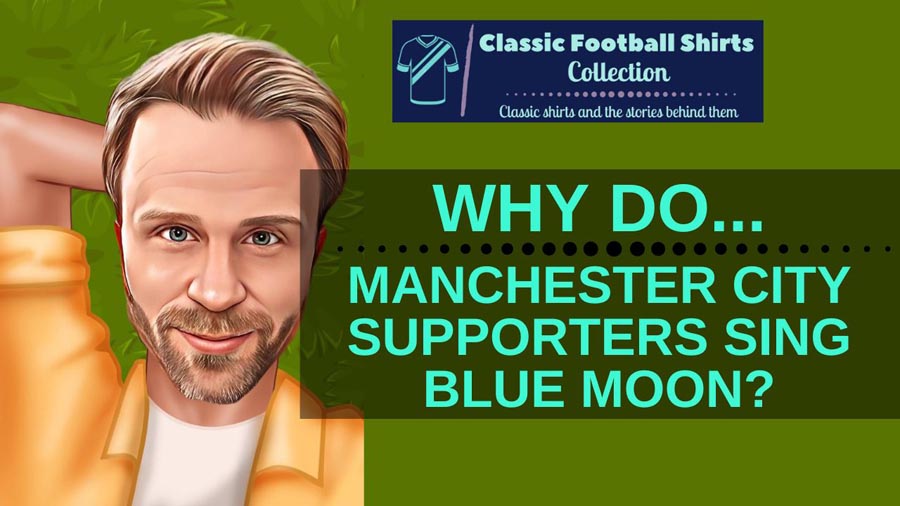 It is obvious why Manchester City supporters sing Blue Moon, surely?
I mean it is a reference to the sky-blue kit the team plays in right?
Wrong!
The actual reason why this grand show tune was heard bouncing around the terraces of Maine Road, and is still sung today at the Etihad Stadium is about much more than Manchester City's shirt colour.
Let's find out exactly why a song written way back in 1934 remains so popular amongst City fans today.
Why Do Manchester City Supporters Sing Blue Moon?
The first noted reference of Manchester City supporters singing Blue Moon came on 19 August 1989, when the club took on Liverpool at Anfield. At the time away victories from City happened once in a blue moon, in fact between January 1986 and April 1990 they went over four years and 41 games without recording an away victory in the top flight.
A Yo-Yo Club
Although Manchester City is now one of the most successful teams in the world, that hasn't always been the case.
In fact, back in the 1980s, it was the epitome of a yo-yo club.
In seven seasons between 1983 and 1989, the team was relegated twice and promoted twice.
And it was during this period that the club's fans adopted the song Blue Moon, for reasons we will reveal later.
But first, let's take a closer look at the club's turbulent history during this time.
RELATED ===> Revealed: The Best Retro Manchester City Shirts
In Search of An Elusive Away Win
The 1982/83 season was Manchester City's 17th successive season in the top flight of English football, the club's best run since it was formed back in 1880.
Another midtable finish, like a 10th-place finish the previous season, was the expectation of many fans.
Unfortunately, things turned out much worse than anticipated.
Three successive wins at the start of the season raised expectations, but unfortunately, that was to be the high point for Manchester City supporters.
A terrible second half of the season saw City win just four of its 21 league games, losing 13 and drawing four.
They finished 20th and were relegated to the Second Division.
That started the following run for the club:
1982/83: Division One – Relegated in 20th place.
1983/84: Division Two – 4th place
1984/85: Division Two – Promoted in 3rd place.
1985/86: Division One – 15th place.
1986/87: Division One – Relegated in 21st place.
1987/88: Division Two – 9th place.
1988/89: Division Two – Promoted in 2nd place.
The 1989/90 season signalled a period of relative stability for the club, as it began a spell of seven seasons in the top flight of English football.
What is notable during this time is just how poor City was away from home in the seasons it spent in the top flight.
1982/83: 4 away wins
1985/86: 4 away wins
1986/87: 0 away wins
1989/90: 3 away wins
That is a total of 11 away wins in the league from 82 games.
In fact after Manchester City won 2-0 away to Spurs on 18 January 1986, they didn't win another away league game in England's top division until 1 April 1990, when they beat Aston Villa 2-1.
That was a period of four years, two months and 13 days or, more precisely, 41 games top-flight away games!
Just for good measure, after waiting so long for an away victory in the top flight, City would then go on to win two of their next three away matches.
Nevertheless up until that point it could be said Manchester City away victories were very rare, they happened once in a blue moon…
Blue Moon is Heard For the First Time
City historian Gary James recalls the first time he heard fans singing the song.
"The first time I can ever recall it being sung was at the opening game of the 1989-90 season at Liverpool, it had never been sung by fans during the seasons before that.

"At Anfield, City fans were kept behind for a while after the match and a few lads started singing it as we started to make our way out. They sang a sort of melancholic version, but it caught on."

Manchester City Historian Gary James talks about 'Blue Moon'.
That was during the period City was in the midst of its long search for an away win.
Although in all honesty the link between that and a song referencing an extremely unlikely event (a blue moon is a rare astronomical occasion where a full moon appears in the same calendar month twice) is probably a mere coincidence.
Nobody knows exactly why a group of City fans decided to strike up Blue Moon at that particular moment as they waited to be let out of Anfield, but it was the start of a tradition that remains to this day.
From that moment on more and more City fans adopted the song as the club anthem, and now City can't set foot on a football pitch without the song being belted out at full volume (along with Hey Jude by the Beatles).
And it all began back at Anfield on 19 August 1989.
What is a Blue Moon?
It is something many have said without knowing exactly what it means, but what is a blue moon and why is it so rare?
Well firstly, it has nothing to do with the colour of the moon, but the definition of a blue moon is something that happens very rarely.
The cycle of the phases of the moon lasts around one month, hence we experience 12 full moons a year or one each month.
All fairly straightforward so far, right?
Notice I said a couple of lines above, the cycle of the phases of the moon lasts AROUND one month?
Well the moon phases actually take 29.5 days to complete, which means very occasionally (around every two to three years), one month can have two full moons. The second of which is referred to as a blue moon.
At the time of writing the next blue moon is on 30/31 August 2023 (with the first full moon taking place at the very start of that month).
And What About the Song Blue Moon?
Blue Moon was written by Richard Rodgers and Lorenz Hart in 1934, and has been recorded by some of the world's most renowned musicians including Billie Holiday, Bob Dylan, Frank Sinatra and Dean Martin.
And since it was used in the show 'Hollywood Hotel' back in 1935, the song has also featured in numerous films and TV shows including Grease, An American Werewolf in London and Notting Hill.
The most commercially successful version of the song was recorded by the doo-wop group The Marcels in 1961. It sold over a million copies and reached number one in the UK, the USA, Canada and New Zealand.
Apparently, Richard Rodgers hated the version so much that he took out advertisements in music papers urging people not to buy it!
Final Thoughts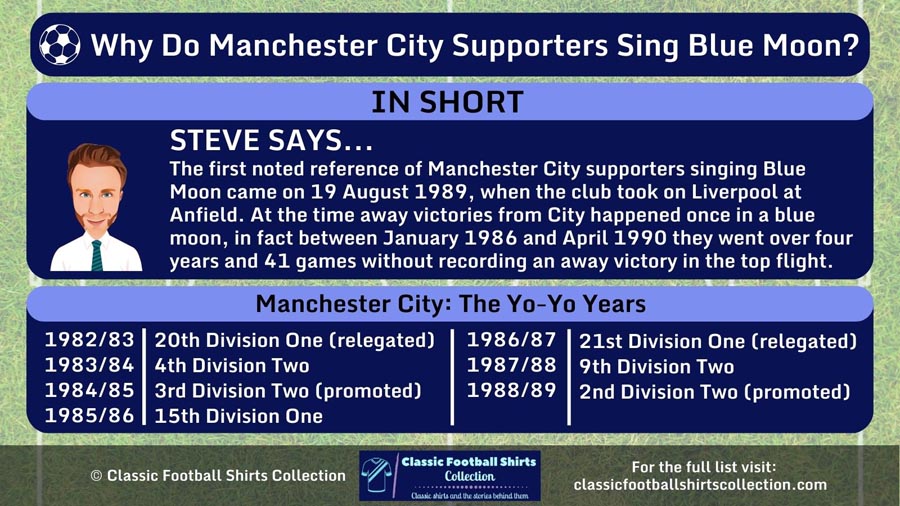 So Manchester City supporters apparently don't sing the song Blue Moon as a reference to the club's sky blue kit.
It seemingly came about quite randomly as City fans waited to be let out of Anfield after a match on the first day of the 1989/90 season.
As they waited a band of supporters began singing the song, and over the coming weeks and months its popularity spread until it was heard regularly at Maine Road (and at away grounds), and with increasing volume.
Today it is synonymous with Manchester City and is a prominent part of the club's history.
---