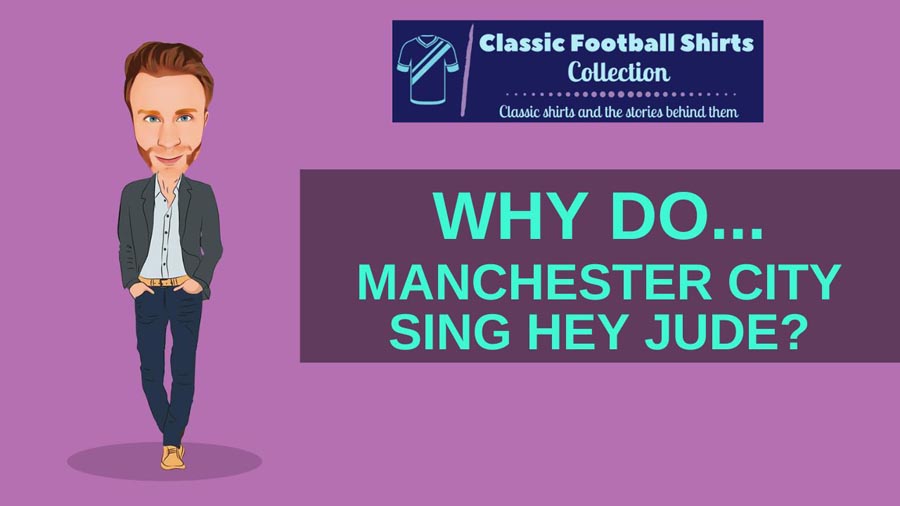 It might seem strange to hear a song from Liverpool's (and probably the World's) biggest band ever reverberating around a stadium in Manchester.
But that is what happens on a regular basis at the Etihad Stadium.
So why do Manchester City sing Hey Jude?
That is what we are going to look at today.
Without further ado let's get started.
Why Do Manchester City Sing Hey Jude?
In May 1968 Manchester City were unexpectedly crowned First Division champions. Three months later, as City started the 1968/69 as reigning champions, the Beatles released Hey Jude. Its anthemic chorus was quickly picked up by Manchester City supporters and adapted to the team. It has been sung ever since at both Maine Road and then the Etihad Stadium.
Two things happened in 1968.
On 11 May 1968, Manchester City were crowned First Division champions.
On 11 September 1968, just under two weeks after its release, Hey Jude hit the Number One spot in the UK.
So when City started the 1968/69 season as reigning champions Hey Jude was the big song in the charts.
It's simple but catchy "Nahh, na, na, nahh-na-na, nahhh" chorus made it perfect for the terraces to sing and none picked up on it more than the passionate fans at Maine Road.
They adopted it as their own chant, replacing "Hey Jude" at the end of the chorus with "City".
RELATED ===> Revealed: The Best Retro Manchester City Shirts
City Win the League
City's title win in 1967/68 was a surprise at the very least.
Only two seasons previously had they won promotion from the Second Division, and the season before they had finished 15th in the First Division a full 21 points behind the Champions Manchester United (in the days of two points for a win).
City had not made any major signings either, and when they gained only one point from their first three games another season of struggle looked likely.
Defeat against Stoke though in the last of those three games prompted a tactical switch that saw Mike Summerbee moved to centre-forward from wide right.
Summerbee scored three times in the next five games, all of which City won leaving them second in the table.
Just as people began talking about City as title contenders they stumbled again, losing three on the trot.
After the third of those defeats, against Sunderland on 7 October 1967, they had dropped to 10th in the table.
But it was the defeat to Sunderland, to lead to a season-defining moment.
City broke their transfer record to sign Francis Lee from Bolton Wanderers for £60,000.
His introduction to the team sparked an 11-match unbeaten run, and by Christmas 1967 City were in 2nd place in the league, a point behind city rivals and reigning Champions Manchester United.
But then successive defeats against West Bromwich Albion saw the team drop to 4th.
Again City responded in determined fashion, winning six and drawing one of their next seven matches.
When they beat Fulham 5-1 at home on 16 March 1968 it put them on top of the table with ten games to go. They were two points clear of Leeds and Manchester United with a much superior goal difference.
But the next seven league games brought three defeats, a draw and three wins.
With four games to go they had dropped to third, a point behind Leeds and two behind Manchester United.
Then two wins in four days at Maine Road against Sheffield Wednesday and Everton, followed by a win at White Hart Lane against Tottenham meant they went into the last game of the season level on points with Manchester United at the top of the table, but with City having a superior goal difference.
City knew if they could match United's result in the final game of the season they would be Champions for the first time since 1937 and only the second time ever.
City's game against Newcastle proved to be a fitting way to finish the season, although a 4-3 win was immaterial in the end with second-place United losing at Sunderland.
City won the league by two clear points.

The next season began on 10 August 1968, just two weeks before The Beatles released Hey Jude.
Very soon the song was bouncing around the Maine Road terraces.
Unfortunately for City it was a return to the League form of two seasons prior, and they finished 13th, although they did beat Leicester City to win the FA Cup.
You can see the title win was sandwiched by two middle-table finishes.

The Beatles Release Hey Jude
Hey Jude was the Beatles' first release on their own Apple record label, and it proved to be a huge seller even by the Beatles' lofty standards.
It was the best-selling single of the year in the UK, the US, Australia and Canada, and its nine-week run at the top of the charts in USA tied the all-time record.
Clocking in at 7 minutes and 12 seconds it was also the longest single to top the British charts at the time.
In total it has sold over eight million copies.
Paul McCartney composed the song on his way down to see John Lennon's wife Cynthia after the pair had separated due to Lennon's affair with Yoko Ono.
The song was originally titled 'Hey Jules' and was intended to comfort John and Cynthia's son Julian following the separation of his parents.
Hey Jude frequently features on the list of the greatest songs ever, and its enduring legacy means it is still sung by Manchester City fans (and many other football fans) to this day.
Final Thoughts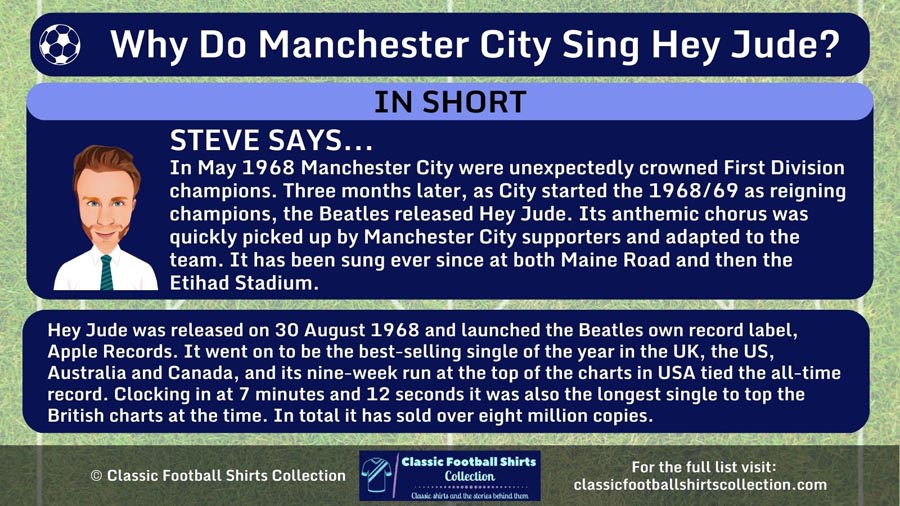 More than one club's fans sing Hey Jude, but it is probably most strongly associated with Manchester City fans.
And why do they sing it?
Well aside from the fact it is a fantastic song, it was also released just a couple of months after Manchester City won the league for the first time in 30 years way back in 1968.
So when City started the season as defending champions the fans picked up on its anthemic chorus and adapted it for their heroes.
And it has never gone away, so expect to hear it reverberating around the Etihad (along with Blue Moon), next time you go there.
---