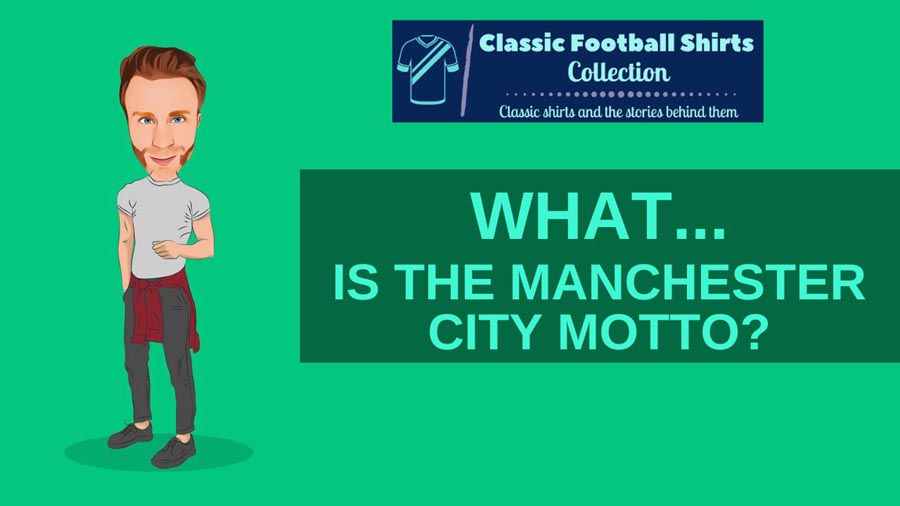 Most football clubs have mottos. Often inspirational, sometimes aspirational, and occasionally philosophical.
Also nearly always in Latin!
So which category does Manchester City's motto fit into, and equally importantly, what is it?
Let's take a closer look.
What Is the Manchester City Motto?
Manchester City's motto is the Latin phrase "Superbia in Proelio" which means "Pride in Battle". It featured on the club badge from 1997 to 2015 before a new more simplified crest was introduced at the end of 2015.
Pride in Battle
In 1997 Manchester City found itself in need of a new club badge, this was because the club couldn't trademark its previous badge.
Unfortunately, the new badge that was designed was very different from previous club badges and almost universally unpopular with City fans.
It consisted of an eagle, which is an old heraldic symbol of the city of Manchester, a ship representing the Manchester Ship Canal and three diagonal stripes symbolizing the local rivers, the Irwell, the Irk and the Medlock.
Beneath the main crest was a Latin phrase: "Superbia in Proelio".
This means "Pride in Battle".
As mentioned the badge was never a favourite amongst City supporters and when the club balloted fans in 2015 asking them if they wanted to change the badge, the result was almost unanimous.
They did!
Wisdom and Effort
A new, more simple badge, based very much on the club's previous badges, was unveiled before a game against Sunderland on 26 December 2015.
It remains the club badge to this day, and the Latin phrase "Superbia in Proelio" has been removed from the badge.
However the previous badge wasn't the first time a Latin motto had featured on City's crest.
The club's first crest, after it changed its name from Ardwick FC to Manchester City in 1894, was the official coat of arms of the city of Manchester.
A white antelope and a golden lion stand on either side of a shield, with a ship in the top half and three yellow lines on the bottom half (again to represent the Irwell, the Irk and the Medlock rivers).
At the bottom is the phrase "Concilio et Labore". Loosely translated this means "wisdom and effort", which is the motto of the city of Manchester.
Eventually, the use of this badge was phased out in the 1960s.
Final Thoughts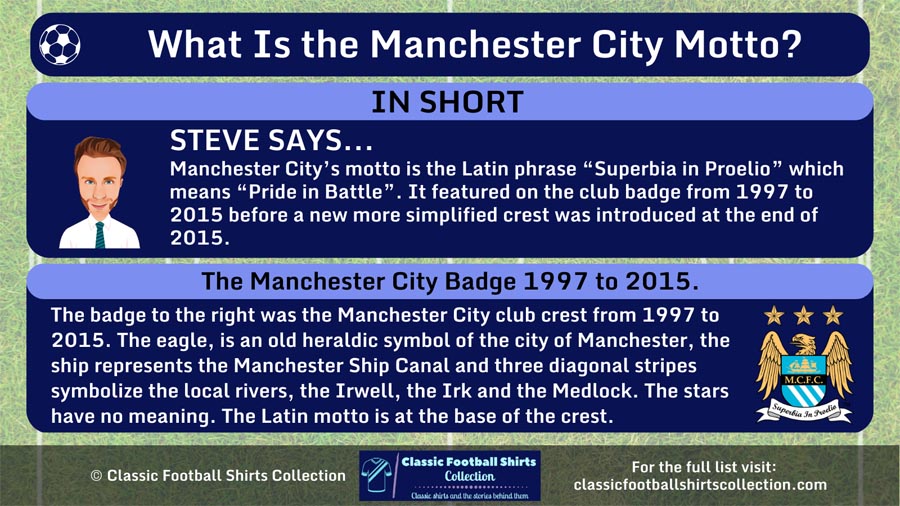 The Manchester City motto is "Superbia in proelio", which translates as 'pride in battle'.
The motto was commonly seen at the Etihad Stadium as it featured on the club crest from 1997 to 2015, however the badge has since been replaced with a more simplified version without the Latin motto.
And this new badge is the one that can also be seen as players walk onto the pitch and at various other points around the stadium.
But "Superbia in proelio" remains the club motto.
---