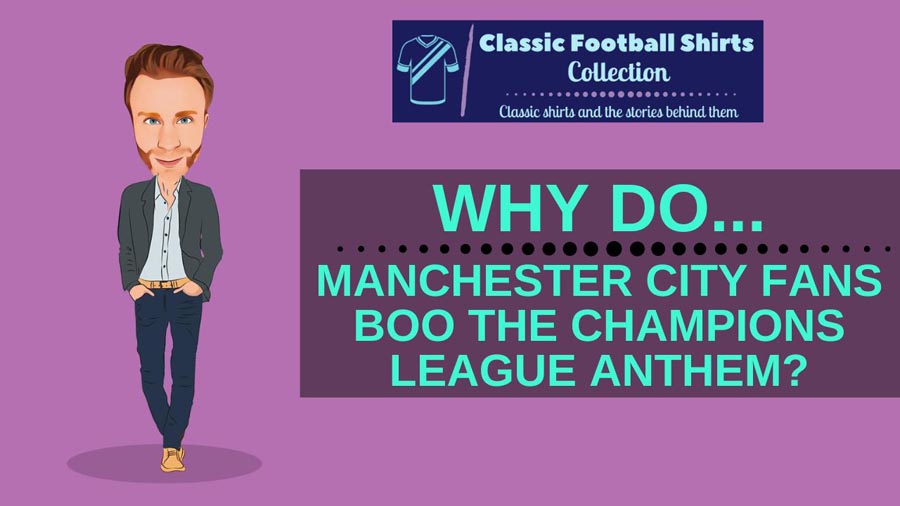 It is no secret that Manchester City supporters are not big fans of UEFA.
And that is demonstrated before pretty much any Champions League match when you can expect to hear the anthem subject to a chorus of jeers.
But why do Manchester City fans boo the Champions League anthem?
Let's take a closer look…
Why Do Manchester City Fans Boo The Champions League Anthem?
Manchester City fans have long felt aggrieved with UEFA and show their displeasure with the organisation by booing the Champions League anthem. There had already been a number of events contributing to the bad relationship between the two parties and then in, May 2014, City were fined £49million by UEFA for breaching FFP regulations, an event that really lit the blue touch paper!
There isn't one solid reason why Manchester City fans boo the Champions League anthem, instead, there are a series of reasons that have snowballed, and seen City's supporters becoming increasingly disillusioned by UEFA's hierarchy.
Let's go through them in order:
#1 – Sept 2011: UEFA Introduces New Financial Framework
In September 2011, just as Manchester City was set to compete in the Champions League for the first time, UEFA introduced new regulations for clubs breaching financial fair play rules.
Clubs who exceeded the permissible losses of €45m (£40m) over the season were to be stripped of their Champions League or Europa League prize money and be subject to a transfer embargo.
Many City supporters at the time felt this was an attempt by Europe's elite clubs to protect their own positions at the top of the game from clubs such as theirs that had strong financial backing.
#2 – February and March 2012: Contrasting Fines, €20k For Racism €30k For Being Late…
In February 2012, following their Champions League exit, City took on Porto in the Europa League Round of 32.
City sailed through 6-1 on aggregate, but both Mario Balotelli and Yaya Toure suffered racial abuse in the first leg at Porto's Estadio do Dragao.
Because of that Porto were fined €20,000.
In the next round Manchester City were back in Portugal when they were drawn against Sporting Lisbon.
They lost the first leg 1-0 away in Lisbon but were fined €30,000 for returning "up to 60 seconds later than they should have done" after half-time.
The irony of the fine being €10,000 more than that dished out to Porto for racist abuse was not lost on Manchester City fans.
RELATED ===> Revealed: The Best Retro Manchester City Shirts
#3 – May 2014: City Are Punished for Breaking FFP Rules
The incident that really sparked the hostility from Manchester City fans towards UEFA occurred in May 2014.
City were found guilty of breaching some of UEFA's Financial Fair Play (FFP) rules and were handed a £49million fine, with further restrictions placed on their spending. They were also forced to name a reduced 21-man squad for the 2014/15 Champions League.
The club felt that UEFA's new rules on Financial Fair Play (referred to in #1 above) had been introduced to make an example of them.
In fact they released a statement at the time expressing their displeasure at the punishment, saying:
At the heart of discussions is a fundamental disagreement between the club's and Uefa's respective interpretations of the FFP regulations on players purchased before 2010. The club believes it has complied with the FFP regulations on this and all other matters.

Manchester City statement following a £49million fine from UEFA in May 2014.
#4 – October 2014: City Travel to Moscow to Play 'Behind Closed Doors'
Just a few months later the situation was exacerbated when City were set to travel to CSKA Moscow to play a Champions League group match behind closed doors.
The Russian side were handed the punishment following repeated incidents of racial abuse from its supporters.
Unfortunately UEFA only took the decision to make the game a behind-closed-doors fixture three weeks beforehand.
By this point many City fans had already bought tickets, flights and hotel rooms for the fixture. The money they had spent would not be reimbursed.
To compound the matter, hundreds of CSKA fans were allowed into the stadium on the day, with an estimated crowd of 650 inspiring CSKA to come back from 2-0 down to snatch a 2-2 draw.
Vincent Kompany was furious after the match, saying in an interview with the BBC:
Why the hell do we not have any fans here? What have our fans done wrong? There's no fairness in it. You say no fans, all of a sudden you turn up and the team who has no fans is Man City. So who's getting punished? Who's being done for racism, Man City or Moscow?

Vincent Kompany speaking after Manchester City played CSKA Moscow in a supposedly behind closed door game in 2014.
#5 – October 2015: UEFA Considered Charging City For Booing the Champions League Anthem
The relationship between City and UEFA reached a new low following a Champions League game between City and Sevilla at the Etihad Stadium on 21 October 2015.
Before the 2-1 group stage win, City fans booed the Champions League anthem.
UEFA pointed out this was a breach of competition regulation 16.2, namely "the disruption of national or competition anthems".
It was rumoured that City were going to be charged with breaking this rule, but UEFA did a u-turn and changed its own rules and City weren't punished.
It did nothing to improve the attitude of supporters towards UEFA though!
#6 – February 2016: Another 'Behind Closed Doors' Fiasco
In December 2015 City were pitted against Dynamo Kyiv in the Champions League Round of 16.
The first leg would take place in Kyiv in Feb 2016, and with Kyiv in the midst of a stadium ban, the game was set to take place behind closed doors.
However just three weeks before the fixture UEFA overturned the ban, but it was too late for most City fans to make arrangements to attend the match.
Hence City barely had any representation amongst the 53,691 fans at the Olympic Stadium that day.
Thankfully it didn't affect their performance and they won 3-1 and secured a 0-0 draw at the Etihad in the second leg to go through.
#7 – May 2019: UEFA Changes Its Coefficient
In 2019 UEFA announced it was changing its coefficient points system. This system is the basis for the seedings in the Champions League and Europa League draws.
Previously the point system had been based entirely on a team's recent success in the European competitions.
With six successive seasons in the Champions League City had moved ahead of Manchester United, Liverpool and Arsenal.
But the new system gave clubs points based on their historical performance in the tournament.
This meant teams like Manchester United, Liverpool and AC Milan who have all won the trophy a number of times got a ranking boost.
#8 – February 2020: City Are Banned From the Champions League for Two Years
In February 2020 UEFA found Manchester City guilty of another breach of Financial Fair Play regulations.
The club's punishment this time? A two-year ban from the Champions League, starting in the 2020/21 season.
Manchester City said they had a "comprehensive body of irrefutable evidence in support of its position".
An appeal to the Court of Arbitration for Sport was successful, and the banned was overturned on appeal.
Needless to say, Manchester City supporters and officials were left furious by the original decision!
Final Thoughts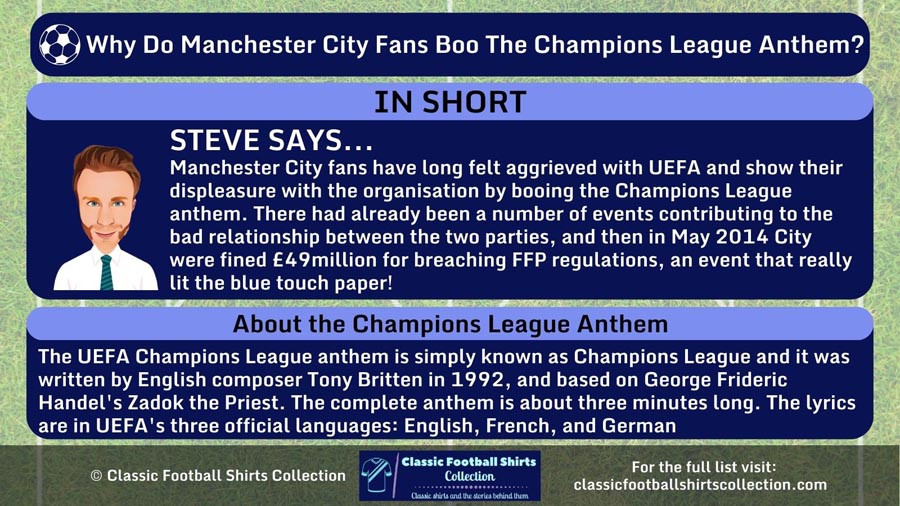 As you can see there have been a series of incidents over the past decade or so that have slowly weakened the relationship between the club (and its fans) and UEFA.
There was already an underlying feeling of hostility towards UEFA by the time City were fined just under £50million for breaching Financial Fair Play regulations in May 2014.
But it was this punishment that really lit the blue touch paper, and ever since then City fans have been quick to show their displeasure at the governing body of European football.
And one way they do this is by booing the anthem of UEFA's showpiece event, the Champions League.
It doesn't look like it will stop anytime soon either!
---