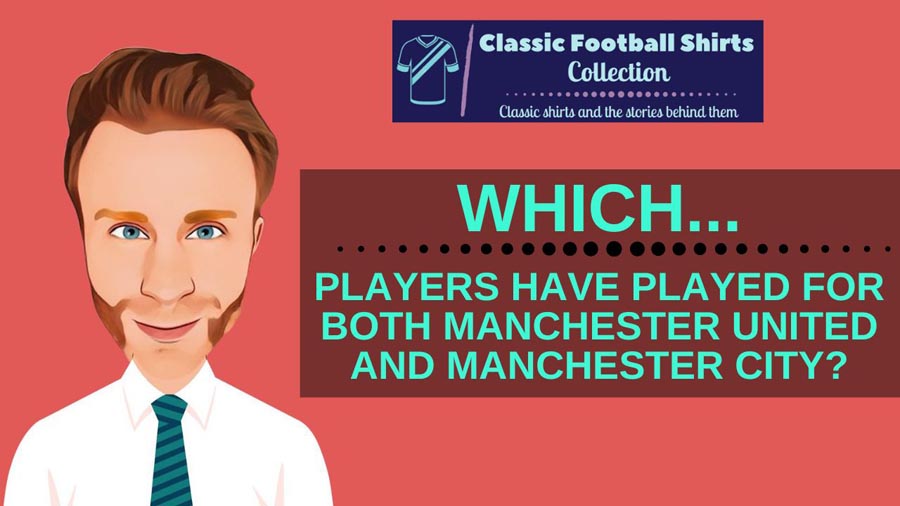 Whilst the Manchester City and Manchester United rivalry might not be on quite the same level as Manchester United and Liverpool, it is still pretty fierce.
So are there any players that have crossed the divide and played on both sides of Manchester?
That is what we are answering today.
So which players have played for both Manchester United and Manchester City?
Let's find out…
Which Players Have Played For Both Manchester United And Manchester City?
In total over 20 players have played for both Manchester teams. Some of the most famous names to have straddled the divide include Denis Law, Brian Kidd, Peter Schmeichel and Carlos Tevez. It is unlikely anyone will break Billy Meredith's record though, he made 366 league appearances for City and 303 for United!
There are actually quite a few players who have played for both teams in Manchester, so let's start with those who have done it more recently, with the players who have played for both Manchester United and Manchester City post-war.
Players to Have Played For Both Teams Post War
Denis Law
Manchester City: 1960 to 1961 and 1973 to 1974
Appearances/goals: 68/30
Manchester United: 1962 to 1973
Appearances/goals: 309/171
Although best known for his 11 years at United, Denis Law actually first appeared for City, who signed him as a 20-year-old from Huddersfield for a British record transfer fee of £55,000.
Law scored 21 goals in 44 games in his first spell at City and saw six goals scrubbed from the record books when he notched a double hat-trick against Luton Town in the FA Cup, only for the game to be abandoned!
Law left City for a brief spell in Italy at Torino before joining Manchester United for another British record transfer fee of £115,000.
In his 11 years at United he won the First Division twice, the FA Cup and the European Cup, as well as picking up the Ballon d'Or in 1964.
During this time he scored over 40 goals in a season once, over 30 goals in a season twice and over 20 goals in a season three times.
Law returned to City for one final season and is famous for his backheeled goal against United in City's last game of the season.
Whilst some say the goal relegated Manchester United, other results on the day meant Manchester United would have gone down regardless.
Wyn Davies
Manchester City: 1971 to 1972.
Appearances/goals: 45/8
Manchester United: 1972 to 1973.
Appearances/goals: 16/4
Known as 'Wyn the Leap' for his accomplished aerial ability, 6'2 Wyn Davies followed Denis Law to become the second player to feature for both City and United post-war.
Davies went directly from City to United for £60,000 in September 1972, making way for Rodney Marsh in the City side.
Davies scored on his United debut, but never established himself in the team and left to join Blackpool for a cut price £14,000 in June 1973.
He also earned 34 caps, scoring six goals, for Wales between 1963 and 1973.
Brian Kidd
Manchester United: 1967 to 1974
Appearances/goals: 203/52
Manchester City: 1976 to 1979
Appearances/goals: 98/44
Brian Kidd has had a big involvement with both Manchester teams, playing over 300 times in total and acting as assistant manager for both teams.
Kidd scored on his 19th birthday in Manchester United's 4-1 win over Benfica in the 1968 European Cup Final.
He was transferred to Arsenal for £110,000 six years alter as United were relegated to the Second Division, before then joining Manchester City for £100,000 in 1976.
In the three years he was at City he scored three times against United.
He would later enter a coaching career which saw him be an assistant for both Manchester teams as well as managing Barrow, Preston North End and Blackburn.
Peter Barnes
Manchester City: 1974 to 1979 and 1987 to 1988
Appearances/goals: 123/15
Manchester United: 1985 to 1987
Appearances/goals: 20/2
Peter Barnes's career spanned almost 20 years and even more clubs!
He made his debut in October 1974, at the age of 17, when he came on as a substitute in the Manchester derby and played his last game in 1993 for Cliftonville.
In between, he turned out for another 22 clubs including a two-year spell at Manchester United, where he featured in the first four games of Alex Ferguson's tenure.
Barnes started his career though at Manchester City, and it was there that he also made his England debut at the age of 20.
Barnes briefly returned to Manchester City in 1987 for a fee of £20,000 but made just a further eight league appearances.
Sammy McIlroy
Manchester United: 1971 to 1982
Appearances/goals: 342/57
Manchester City: 1985 to 1986
Appearances/goals: 13/1
Sammy McIlroy holds the honour of being Sir Matt Busby's final signing for Manchester United in 1969.
McIlroy made his debut in November 1971 when he was 17 and would go on to become a mainstay in the United team for the next 11 years.
When United dropped down to the Second Division for a season in 1974-75 he played in all 51 fixtures.
McIlroy went to Stoke for a club record fee of £350,000 in 1982 and would leave the Midlands club on a free transfer in 1985, where he joined Manchester City for a season.
John Gidman
Manchester United: 1981 to 1986
Appearances/goals: 95/4
Manchester City: 1986 to 1988
Appearances/goals: 53/1
John Gidman was Ron Atkinson's first signing for Manchester United in 1981 and would spend half a decade at Old Trafford, before moving directly to Manchester City.
Gidman spent two seasons at City, the first of which saw the club relegated to the Second Division.
He retired from football a season later in 1989.
Peter Beardsley
Manchester United: 1982 to 1983
Appearances/goals: 1/0
Manchester City: 1998
Appearances/goals: 6/0
The inclusion of Peter Beardsley's name on this list might come as a surprise to some, but he had a very brief spell with Manchester United after returning from playing for Vancouver Whitecaps in Canada.
His only competitive appearance for the Red Devils came in a 2-0 League Cup win against AFC Bournemouth on 6 October 1982, when he was replaced in the second half by Norman Whiteside.
Beardsley's spell at Manchester City came 15 years later but didn't last much longer. He played just six times on loan for the club from Bolton Wanderers.
However this does make Beardsley the only player to play for both top-flight teams in Liverpool and Manchester having also played for Liverpool and Everton.
Mark Robins
Manchester United: 1988 to 1992
Appearances/goals: 48/11
Manchester City: 1999
Appearances/goals: 2/0
Mark Robins is acknowledged to have scored one of the most pivotal goals in the history of Manchester United football club.
On 7 January 1990 rumours were gathering that if United lost their Third Round FA Cup tie against Nottingham Forest, that manager Alex Ferguson would be sacked, with the club struggling in 15th place in the League.
Robins scored the winning goal, and United began a run to the FA Cup Final which they would win against Crystal Palace.
Ferguson kept his job and the following season United finished 6th, and then 2nd and then won the league for the first time in 25 years in 1993.
Robins could never establish himself in the United team and left to join Norwich City for £800,000 in 1992.
His spell at City was on loan from Greek side Panionios and last just two games before injury ended it.
Terry Cooke
Manchester United: 1994 to 1999
Appearances/goals: 4/0
Manchester City: 1999 to 2002
Appearances/goals: 20/2
When Terry Cooke made his Premier League debut against Bolton in September 1995 the 19-year-old was being tipped as the next big player to come from Manchester United's famous youth setup.
However with David Beckham ahead of him, Cooke only made four Premier League appearances in five years before Joining Manchester City in 1999 for £600,000.
Cooke spent three years at City, but was never a regular in the team. He joined Grimsby in 2002.
Andrei Kanchelskis
Manchester United: 1991 to 1995
Appearances/goals: 123/28
Manchester City: 2001
Appearances/goals: 10/0
Flying winger Andrei Kanchelskis became one of just 11 players from outside of the British Isles playing in England's top division when he joined Manchester United in 1991.
Kanchelskis spent five seasons at United, and established himself as one of the most potent wingers in the league, scoring 14 goals in 30 games in his last season for the club.
Kanchelskis left for Everton in 1995, after falling out with Alex Ferguson and would keep up his excellent goalscoring form with 16 goals in 32 games for the Toffees in his first season.
Kanchelskis' spell at City was brief, encompassing just ten games on loan from Rangers.
Peter Schmeichel
Manchester United: 1991 to 1999
Appearances/goals: 292/0
Manchester City: 2002 to 2003
Appearances/goals: 29/0
Alex Ferguson's signing of Peter Schmeichel from Brondby in Denmark for £505,000 was described by the manager as the "bargain of the century".
Schmeichel's eight seasons at the club saw him win five league titles, three FA Cups, a League Cup and a Champions League as well as numerous individual awards.
Schmeichel ended his career with a single season at Manchester City.
He holds the distinction of never being on the losing side in the Manchester derby during either his nine years at United or has single season at City.
Andy Cole
Manchester United: 1995 to 2001
Appearances/goals: 195/93
Manchester City: 2005 to 2006
Appearances/goals: 22/9
Andy Cole's move from Newcastle, where he had scored 55 goals in 70 league games, to Manchester United for £7million was a British transfer record.
During his time at Old Trafford he faced stiff competition from Dwight Yorke, Teddy Sheringham and Ole Gunnar Solskjær for a starting place but managed 93 goals in 195 games and won the Premier League five times, the FA Cup twice and the Champions League once.
Cole joined Manchester City in 2005 when he was 34 and spent one season there managing 9 goals in 22 games before joining Portsmouth.
Carlos Tevez
Manchester United: 2007 to 2009
Appearances/goals: 63/19
Manchester City: 2009 to 2013
Appearances/goals: 113/58
Carlos Tevez's spell at Manchester United began and ended in controversy.
Complications around his ownership meant his two seasons at Old Trafford were a loan spell from West Ham.
After two successful seasons on the red side of the city, he turned down a lucrative five-year contract from United and joined Manchester City.
His four seasons at the Etihad were also shrouded in controversy, but he scored 58 goals in 113 games and won both the FA Cup and the League with the club to add to two league titles he won at Manchester United.
Owen Hargreaves
Manchester United: 2007 to 2011
Appearances/goals: 27/2
Manchester City: 2011 to 2012
Appearances/goals: 1/0
To say Owen Hargreaves' spell in Manchester was disrupted by injury would be an understatement.
The Canadian-born midfielder made a respectable 23 league appearances in his first season at United after joining from Bayern Munich for £17million in 2007.
However recurring injury problems meant he made just two league appearances in the 2008/09 season, one in the 2009/10 season and one in the 2010/11 season for United before being released from his contract.
He surprisingly signed for Manchester City for the 2011/12 season but made just one more Premier League appearance before retiring from football.
Players to Have Played For Both Teams Pre-War and Notable Mentions
Scotsman Bob Milarvie was the first player to turn out for both teams.
He made 22 appearances and scored four goals for Newton Heath (who would become known as Manchester United) between 1890 and 1891, before joining Ardwick (who would go on to become Manchester City) and appearing 69 times and scoring 12 goals over five seasons between 1891 and 1896.
Fellow Scotsman William Douglas followed Milarvie, making 36 appearances for Ardwick between 1890 and 1894, before joining Newton Heath and playing 56 times between 1894 and 1896.
Billy Meredith certainly holds the record of having the most appearances for each team.
The Welsh forward made 338 appearances and scored 147 goals for Manchester City between 1894 and 1906.
He then joined Manchester United and turned out 303 times, scoring 35 goals between 1906 and 1921, before returning to Manchester City in 1921 at the age of 47!
He made a further 28 appearances, scoring one goal. His last game was an FA Cup semi-final tie against Newcastle in 1924 when he was 49 years and 245 days old.
This made him City's oldest-ever player.
Another player with a considerable number of appearances for both teams was Alexander 'Sandy' Turnbull.
The forward appeared for City 110 times and scored 53 goals between 1902 and 1906, and 220 times, scoring 90 goals, for Manchester United between 1906 and 1915.
The only man to manage both teams was Ernest Mangnall.
He had the most success during nine years at United, when he won two league titles and an FA Cup, before joining Manchester City in 1912.
His high point during his eight seasons at City saw the club finish as runners-up in the First Division in 1920/21.
He is also believed to be the man who prompted both Manchester United's move to Old Trafford and Manchester City's move to Maine Road.
Abbie McManus, Jane Ross and Aoife Mannion have played for both Manchester United and Manchester City's women's teams, whilst Tony Coton, Shaun Goater, Jon Macken and Jadon Sancho have been on the books of both teams, but didn't feature at first team level for both.
Final Thoughts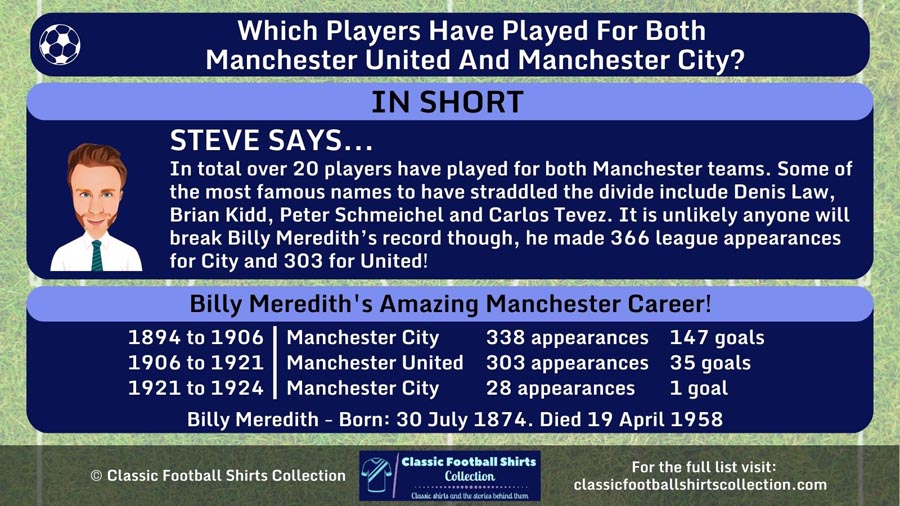 So as you can see the list of players who have played for both Manchester United and Manchester City is actually more extensive than you might imagine.
Over 20 players have turned out for both sides in Manchester.
The first was Bob Milarvie in 1891 and the last (at the time of writing) was Owen Hargreaves in 2011.
Ernest Mangnall is the only man to have managed both teams.
---