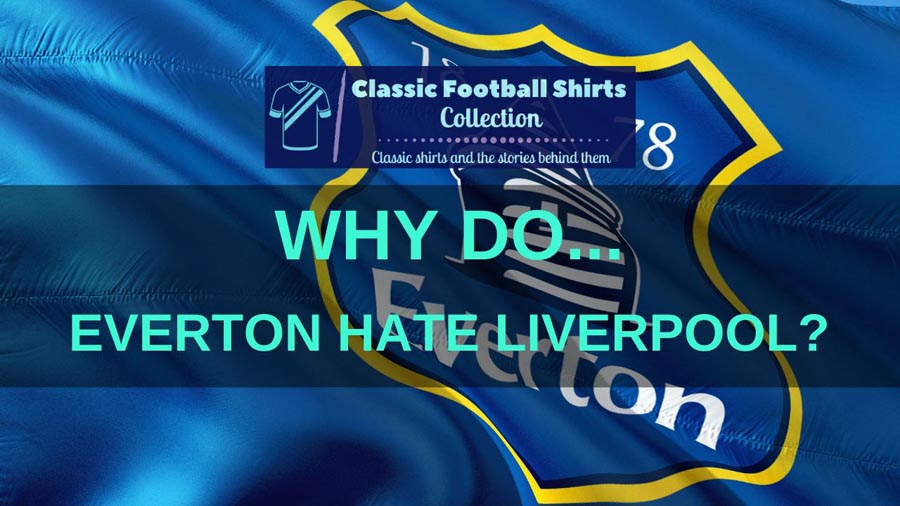 Football rivalries are strange things but common things, and there is a reason behind every rivalry.
So why do Everton hate Liverpool?
In fact do they hate Liverpool?
We will weigh up all the possible reasons in this blog post.
So let's get started…
Why Do Everton Hate Liverpool?
Everton don't hate Liverpool, but there was a bitterness following the Heysel disaster that saw possibly Everton's greatest ever team banned from attempting to win the European Cup, a natural local rivalry and an element of jealousy at Liverpool's continual success. The way the supporters have come together for various reasons over the years shows it isn't hatred.

It is Because of Heysel
The relationship between Everton and Liverpool fans became particularly strained in the mid-1980s following the Heysel Stadium disaster.
The tragedy, which occurred in 1985 at the European Cup Final between Liverpool and Juventus saw 39 fans killed and over 600 injured.
As a result, all English clubs were banned from competing in European competitions for five years.
The sticking point here was that season Everton had the greatest team in their history.
In the 1984/85 season, Everton won the league by 13 points (despite losing three of their last four games when the title was already secured), won the European Cup Winners' Cup, won the Charity Shield and were runners-up in the FA Cup.
Howard Kendall was named Manager of the Year, Neville Southall was the Football Writers' Player of the Year, Peter Reid was the PFA Player of the Year and Everton were named European Team of the Year.
The club would have entered the following season's European Cup as one of the favorites to win it.
But because of the European ban they never had the chance.
RELATED ===> Revealed: The Best Retro Everton Shirts
By the time English clubs were allowed back into Europe at the start of the 1990s, Everton were just a shadow of the team they had been.
Everton fans placed the blame for the Heysel disaster on Liverpool fans, when in fact the story was much more complicated than that.
Prior to that moment, the relationship between the two sets of fans was good.
A year previously, when the two teams took each other on in the 1984 League Cup Final, the press were quick to label the game the 'friendly final' such was the feeling of goodwill between the fans, who were heard chanting 'Merseyside' in unison during the game.
This changed following the Heysel disaster.
It is Local Rivalry
The rivalry between Everton and Liverpool is unlike many others in British football.
It isn't uncommon for family loyalties to be split down the middle between the two teams, one sibling supporting Liverpool and one supporting Everton, a husband and wife walking to the match together, him in a red scarf and her in a blue scarf or vice-versa.
Unlike other teams from the same city, there is no real social, political or religious divide.
And talking of walking to a game, whether you support Everton or Liverpool your distance to the stadium will be almost exactly the same.
Only a mile-long walk across Stanley Park separates the two stadiums (until Everton move to their new Bramley-Moore Dock stadium of course), and it has been that way for well over a century.
With one city housing two big football teams there is bound to be rivalry, which at times might spill over into hatred.
It is Down to Jealousy
Let's be honest here, Liverpool have been much more successful than Everton.
I wouldn't say it pains me to write that as an Everton fan as it is undeniably true.
As of 2022 they have 19 league titles to Everton's 9 and 13 European trophies to Everton's 1.
RELATED ===> Have Liverpool Ever Played In Blue?
This probably links back into the first point here as well, that Everton feel they would have had more European trophies were it not for the ban on English clubs competing in Europe following the Heysel disaster.
There is also the slight annoyance from an Everton point of view that when both teams were going through less than successful spells in the 1990s and 2000s, Liverpool managed to keep winning trophies.
In 2001 Liverpool finished 3rd in the league but won the League Cup, FA Cup and UEFA Cup.
In 2003 they finished 5th and won the League Cup.
In 2005 they finished 5th again but won the Champions' League.
In 2012 they finished 8th but won the League Cup.
Since 1995 Everton have just one FA Cup to show for their efforts.
This could be another reason Everton hate Liverpool.
There is Still Some Tension From the Early Years
Let's be honest, there will be no one in the world alive to physically remember this, but the origins of Liverpool FC from Everton FC might still rankle for some…
Everton were founded in 1878 and were actually the first team to play at Anfield.
The stadium was the club's home from 1884 to 1892.
During this time proper covered stands were built and the ground was transformed from little more than a field to a 20,000 capacity international standard ground.
When Everton won their first league title in 1891, they won it playing at Anfield.
Everton's Club President John Houlding owned Anfield, and tensions developed between the club and Houlding as he increased the rent on the ground from £100 in 1884 to £250 in 1892.
Houlding wanted to sell Anfield to the club, but the Everton Committee wanted a long-term rent.
Eventually, with neither party able to find a satisfactory resolution, Everton left Anfield and decided to look for another stadium, moving into Goodison Park for the start of the 1892/93 season.
With an empty stadium and no team to play in it, Houlding decided to start a team of his own and in 1892 Liverpool FC were born and Anfield became their home ground.
This is still remembered by some Everton fans who will occasionally remind their neighbours of it.
RELATED ===> Have Liverpool And Everton Ever Played At Home On The Same Day?
Everton Don't Hate Liverpool
Whilst there is undoubtedly rivalry between the two teams, which sometimes borders on bitterness, I think to say Everton fans hate Liverpool is much too strong.
Especially in comparison to other well-established footballing rivalries in the UK such as Rangers and Celtic or Liverpool and Manchester United.
We've already discussed how there is no real religious or political divide between the teams.
The teams played each other in three cup finals in 1984, 1986 and 1989 and for all the violence in the game during the 1970s and 1980s, Everton and Liverpool games remained fairly immune.
After the Hillsborough disaster in 1989 supporters of both clubs boycotted the Sun newspaper and scarves of both clubs lined the walk across Stanley Park.
In 2007 the family of murdered Everton fan Rhys Jones were invited to attend a Champions League fixture at Anfield.
As they took to the field in their Everton shirts, Everton's Z Cars theme tune was played and the Liverpool crowd gave them a standing ovation.
In September 2012, after Liverpool fans were absolved of responsibility for the Hillsborough tragedy, Everton played an emotional tribute to the 96 victims before a game at Goodison Park against Newcastle.
Two young fans stood in the centre-circle, one in an Everton shirt and one in a Liverpool shirt with the numbers 9 and 6 on their backs, as the stadium announcer read the names of all 96 victims.
RELATED ===> Revealed: The Best Retro Liverpool Shirts
Finally I thought these comments that I found on Reddit summed the situation up best of all.
First of all from a Glaswegian who had moved to Liverpool:
"There is very little hatred between Everton and Liverpool, one of the first things I noticed after moving here was how much friendlier the football culture is.
"I'm from Glasgow and we fucking hate each other, Liverpool and Everton are like friendly rivals."
And then from the opposite perspective, a Liverpudlian who had moved to Glasgow:
"As someone who's from Liverpool but living in Glasgow, I was expecting the football rivalry here to be a bit like the Liverpool/Everton rivalry but maybe a bit more hostile – so on the whole just a bit of friendly rivalry. Damn did I underestimate how bad it could be…
"Liverpool and Everton fans don't really hate each other (mostly). It's just a bit of friendly rivalry that can sometimes get amped up in certain situations (like derby days). They might hate the opposite team, but very rarely the supporters of it."
So the vast majority of Everton fans recognise there are bigger things in life than football and do not hate Liverpool fans.
Final Thoughts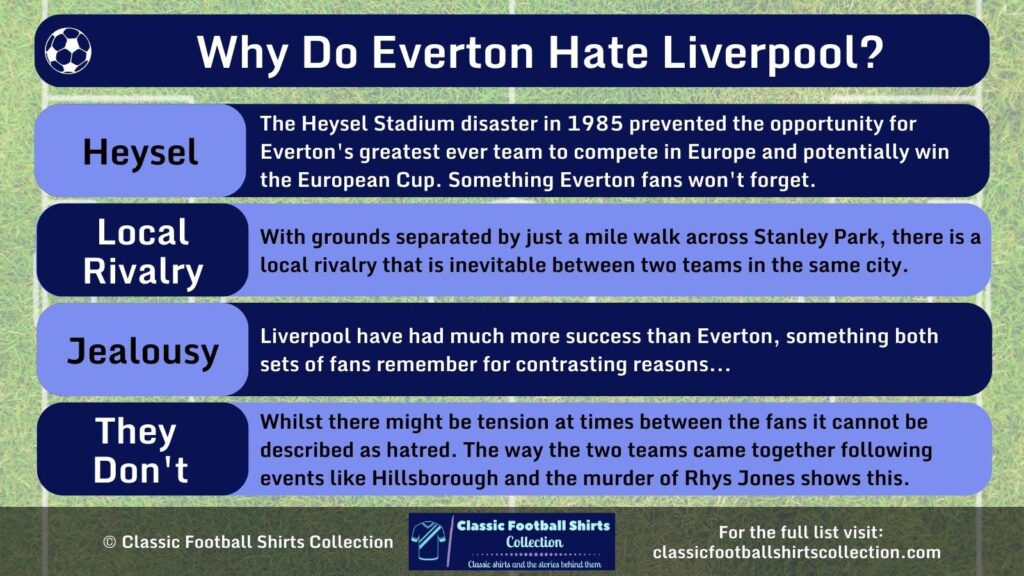 Everton fans don't HATE Liverpool, and anyone who says otherwise is wrong.
Sure there is a dislike, sure there is bitterness, but no two sets of fans can come together in ways like those shown in the two instances above if there is any element of genuine hatred.
Heysel caused some tensions in the 1980s, there is natural local rivalry and jealousy at times for Liverpool's success.
There are some really nasty football rivalries across the world, but the rivalry between the Merseyside teams is pretty tame in comparison.
---