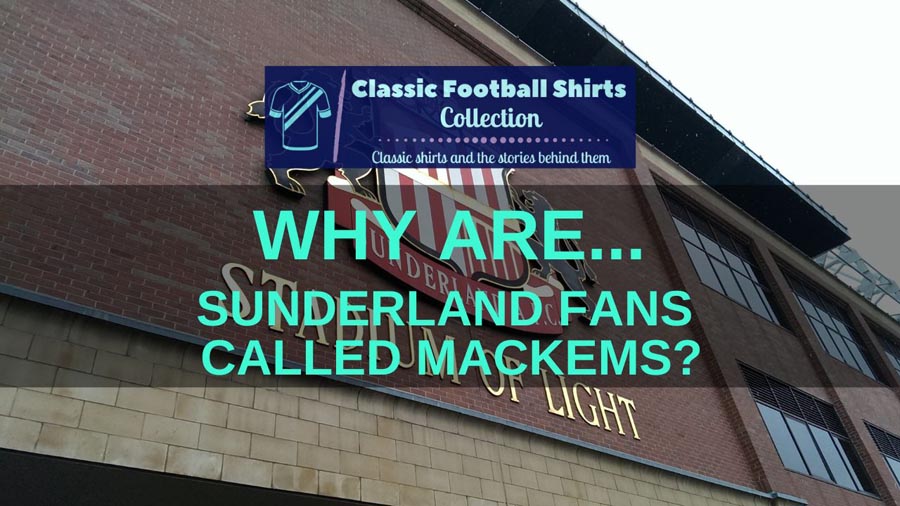 I am sure it is a phrase you have heard or even used many times.
But have you ever stopped to ask yourself why are Sunderland fans called Mackems?
I certainly hadn't until I started researching this article.
And then it all became clear.
Well almost!
Let's take a closer look
Why Are Sunderland Fans Called Mackems?
There are two main theories where the term Mackem came from to describe Sunderland fans. It seems to either have originated from the area's popular shipbuilding industry, the phrase "we mack'em and ye tack'em" being used in reference to boats being built. Or it refers to the way people from the area say "make" and "take", pronouncing them "mak" and "tak".

THEORY 1: It is All to Do With Shipbuilding
The most popular theories behind the labelling of Sunderland fans as Mackems, all revolve around the main forms of employment in Sunderland in the 19th Century.
According to the 1851 census, the majority of Sunderland's workforce was made up of sailors and shipbuilders.
Therefore a popular phrase heard around Wearside at the time was: "we mack'em and ye tack'em", ie we (the shipbuilders) make the ships and you (the sailors) take them.
There are a series of slight variations on this theme, but shipbuilding is at the heart of them all.
For instance, it has also been suggested that back then Wearside (Sunderland) shipbuilders, would underquote their Tyneside (Newcastle) rivals.
The Wearside builders would start building the ships (they would make 'em), but run out of resources so the Tyneside yards would take (take 'em) the partially finished boats and complete them.
Of course that could be a theory derived by Geordies!
In 1857, County Durham historian William Fordyce wrote: "It came to be derisively said that Sunderland shipbuilders could 'either build a ship or make one'."
So could that be when there was a first indirect reference to Mackems? Answer, we will find out shortly…
Either way if you do any research into the term Mackem the vast majority of people will pinpoint the nickname as having direct links with the shipbuilding industry.
RELATED ===> Revealed: The Best Retro Sunderland Shirts
Sunderland does have a huge shipbuilding heritage to the extent it was once known as "the largest shipbuilding town in the world".
So how big was the industry?
The first known shipbuilder in Sunderland was Thomas Menvil who had a yard in 1346.
In 1815 it was the leading shipbuilding port for wooden trading vessels. In that year 31 yards built around 600 ships.
By 1840 there were 76 yards and between 1846 and 1854 Wearside produced just shy of one-third of all ships built in the UK.
By the late 19th century wooden ships and sailing ships were no longer built. The local industry was focused on cargo ships and tankers.
Sunderland played an important role in producing cargo ships during the two World Wars, but after the Second World War yards were closing or merging.
In 1978, 7,535 people worked in the Wearside yards. By 1984 this had dropped to 4,337 and Sunderland's final shipyard closed on 7 December 1988.
THEORY 2: It is to Do With Regional Dialect
RELATED ===> Why Are Newcastle Fans Called The Toon Army?
The other popular theory behind the nickname for Sunderland fans (and people from Sunderland in general) is all to do with the way Wearsiders speak.
It seems it might well have originated as a bit of light-hearted ribbing from Geordies around the pronunciation of the words "make" and "take".
Whilst those from Tyneside pronounce them "maek" and "taek", Wearsiders say "mak" and "tak".
Somewhere along the line it has then been appropriated by people from Sunderland and adopted as a label of local pride.
THEORY 3: It Is Due to Historical Political Allegiances
This is by far the least supported theory behind the derivation of the term Mackem, but it is plausible and dates back further than the previous two explanations.
It has been suggested people from Newcastle were called Geordies as a result of their support of King George II during the Jacobite Rebellion in 1745. Geordie being a diminutive of George.
Those from Sunderland were apparently dubbed Mackems for allowing the Scottish 'Blue Mac' army to take the city without resistance during the English Civil War in the 17th century.
So When Was the Term First Used?
You might be surprised to know that actual written use of the term is fairly recent in the grand scheme of things. Some of the first references include:
In 1953, the Sunderland Daily Echo & Shipping Gazette published an article entitled "Mak'em and Tak'em".
In 1973 a rugby programme for a game between Sunderland and The Dolphins read: "We still tak 'em and mak 'em and ye canna whack 'em."
In 1980-81 the Oxford English Dictionary (OED) notes the first written use of the exact word Mackem. It was in Magpie, a newsletter for the London branch of the Newcastle United Supporters' Club, which said: "Steve Cole, John Evans, [etc.] took the field against the 'Mackems' in a darts and doms double header".
In 1988 the Sunderland Echo use the term in a feature about Notorianni's Ice Cream Parlour, a popular local business at the time. In reference to Gino Notorianni, it said he "has five children and seven grandchildren, all Mack-ems."
Research suggests that the phrase began to be used by north-easterners outside of Wearside during the 1950s and 1960s to label those from around Sunderland.
For instance, the OEDs first noted use of the world comes from London.
RELATED ===> Why Are Sheffield Wednesday Called Sheffield Wednesday?
Research from the University of Sunderland provides some first-hand local insights into the usage of the word Mackems:
"I first heard the word 'Mackem' when I was 11 years old (1981 or thereabouts) while waiting for a woodwork lesson."
"The word Mackem was around in spring 1977, and I suspect it had just cropped up then. I remember it well. I was called it by a Mag from Wallsend in The Sombrero Nightclub, in Chester-le-Street."
"In 1971 I worked as 'van boy' for Sykes pop. I was delivering in Jarrow and this young lass says to her ma 'Doesn't he talk funny mam'? Her mam replies 'that's because he's a Mackem and Tackem'."
Either way the word now appears regularly in all kinds of headlines and in reference not just to football.
And people from Sunderland, and Sunderland football fans, are now quite happy to be described as Mackems.
Final Thoughts
So there seem to be two main arguments when it comes to the question of why Sunderland fans are called Mackems.
We can assume it is either to do with the area's shipbuilding history when it was said about the vessels that were being built "we mack'em and ye tack'em".
Or it is because of the way people from Sunderland pronounce the words "make" and "take", they say "mak" and "tak".
For whatever reason, it only seems to have come into popular use in the last half a century and was first used by people outside of the area to describe Wearsiders.
Its use is now widespread, with both those inside and outside the region using it, and many Sunderland fans proudly call themselves Mackems.
---