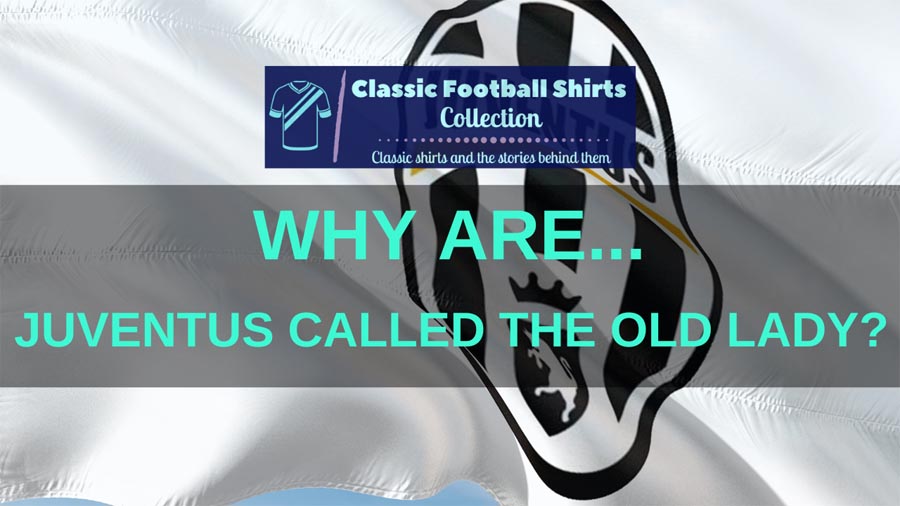 The black and white strip of Juventus is one of the most iconic in football.
And they are also by far the most successful team in Italy.
But with success and fame comes… a lot of nicknames it seems!
So, amongst other things, why are Juventus called the Old Lady?
We take a closer look at a number of Juve's nicknames in this article.
Why Are Juventus Called the Old Lady?
Italian sports journalist Gianni Brera popularized Juve's nickname of the Old Lady (La Vecchia Signora) in his match reports and newspaper columns. It is a reference to the devotion of its fanbase to the club and an ironic take on the Latin translation of its name. The club also had a reputation in the 1930s for holding onto its star players well into their 30s.

It is Because of the Club's Heritage (and Name)
Of all Juventus' nicknames, the Old Lady (or La Vecchia Signora as it is known in Italian) is probably the one most football fans think of first when they hear the club mentioned.
It is also one of the most unusual.
It is believed that it was the veteran Italian journalist Gianni Brera who popularised the term.
He would often liken the elegance of the club to that of a beautiful older lady in his match reports and comment pieces.
The metaphor was meant to imply that they might not necessarily be as eye catchingly attractive as a beautiful young girl, but beneath the surface, their class and experience was of far more worth.
Although it was Brera who brought the term into popular use, the term was already being used to an extent by the club's fans.
The 'old' part of the nickname was derived from the irony of the fact Juventus translates to youth in Latin, despite the club being the third oldest in Italy.
The 'lady' was a reference to the devotion of its (mainly male) fanbase, treating the club as they would a lady.
The nickname gained more credence from the fact that in the 1930s, Juve had a reputation for building its team around the aging veterans in its squad.
For instance, the mainstays of the Juventus squad that won a fifth successive Serie A title in 1935 included: top scorer Felice Borel who was 31, midfielder Luis Monti, 34, defender Umberto Caligaris, 34, and Argentinian forward Raimundo Orsi who was 34.
Around the same time, the club also gained the nickname the Girlfriend of Italy (la Fidanzata d'Italia).
This was said to be due to support it gained from Southern Italian immigrant workers who had moved to Turin from other parts of the country to work for Fiat, which at the time was a huge employer controlling 87% of the Italian car market and providing thousands of jobs.
Juventus became the 'girlfriend' they would see when they were away from their 'wives', the clubs they had supported before moving to Turin.
RELATED ===> Revealed: The Best Retro Juventus Shirts
Why Is Juventus Called Bianconeri?
This is much easier to explain, i Bianconeri simply means 'the black and white' and refers to the club's historical colours.
It also explains why another nickname for the club is Le Zebra, or The Zebras.
The reason for Juve's iconic black and white kit is down to an English man living and working in Turin at the time – Tom Gordon Savage.
Up until 1901 Juventus wore pink and white shirts and by the turn of the century they were in a state of disrepair.
Savage had a close bond with the club, living and working in the area and being a keen football fan.
He sent a letter to one of his connections in his hometown of Nottingham saying:
"Send us at once an elegant trousseau by team; let it be something lively, something eye-catching. We are tired of our muffled old-fashioned upholstery."
His connection shipped a box of kit from his favourite club to Italy.
That club was Notts County and that is when Juventus began wearing black and white.
RELATED ===> Why Are Real Madrid Called Los Vikingos?
Why Are Juventus Fans Called Gobbi?
A Gobbo in Italian is a hunchback, so when Juventus fans are called Gobbi, they are being referred to as hunchbacks.
That is a pretty random insult to throw out there isn't it?
There is a reason behind it, and it dates back to 1956 and a rather unflattering new kit the club adopted.
Although still in the black and white stripes Juventus were famous for, the shirt had been slightly amended.
It had a much more baggy cut, a wide V-neckline and a lace-up neck.
According to many observers at the time, it was more akin to a formal shirt you might wear out in the evening than a streamlined football shirt.
The effect of the baggy cut was, that when players ran, lots of air got into the shirt, and this formed a large bulge that looked like a hump on the back of the shirt.
Hence the nickname Gobbi was created. Torino fans were apparently the first to spot it, and other clubs didn't take long to join in.
The name is often used by opposing fans, but never by journalists.
Why Are Juventus Called Piemonte Calcio in FIFA?
RELATED ===> Why Are Celtic Fans Called Fenians?
Have you noticed that as of 2020 Juventus no longer appears on FIFA?
However there is a suspiciously similar-looking club on there who are based in Italy and play in black and white stripes, but they are called Piemonte Calcio.
Hmmm…
Quite simply this is because in 2020 Juventus ended their partnership with EA Sports who create the FIFA games and signed a contract with Konami who created FIFA's rival game – Pro Evolution Soccer.
This gave exclusive rights to Konami to use Juve's name and the name of its stadium, meaning EA Sports are not allowed to use them.
Juve's contract with Konami is slightly different from the other major clubs who have similar contracts, but which still allow their name still to be used in other video games.
So EA Sports needed to find a new name for the club in FIFA.
Piemonte is taken from Juventus' location, it is based in Turin which is the capital of the Piedmont region of Italy.
In Italian Calcio means football, so Juventus has become Calcio Piemonte!
Final Thoughts
It certainly is an unusual nickname, but as you can see there is a logic behind Juventus being called the Old Lady.
And it all comes down to the Latin translation of the club's name and a legendary Italian sports journalist!
Juventus were formed in 1897 and are the third oldest club in Italy behind Genoa and Udinese.
They are also the most successful, and have picked up almost as many Serie A titles as they have nicknames!
---