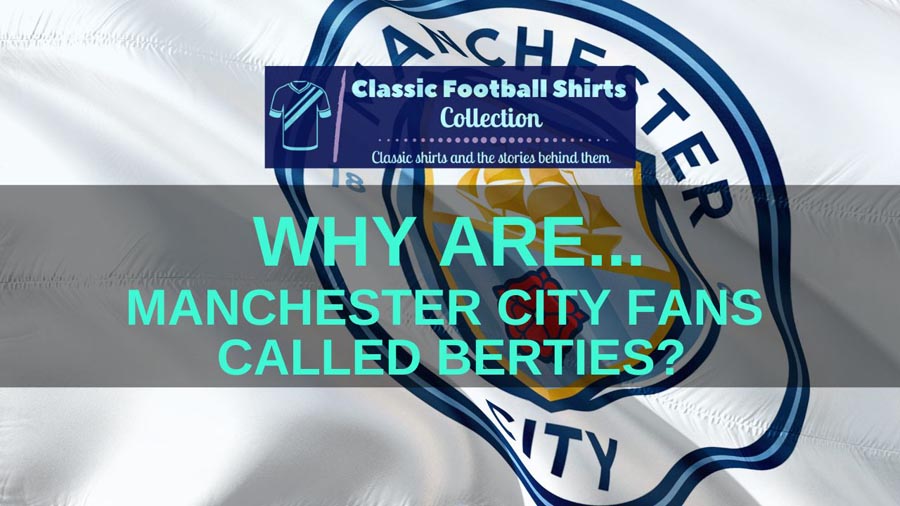 The bigger the club, usually the more nicknames its fans have.
So why are Manchester City fans called Berties?
There isn't a logical explanation unless you know a bit about the history of football in Manchester.
We are going to take a look at this, and a couple of other nicknames City's fans have got in this article.
So without further ado, let's get started.
Why Are Manchester City Fans Called Berties?
Manchester United fans called Manchester City fans Berties after the character Bertie Magoo who appeared in a regular cartoon strip in the popular Manchester United fanzine Red Issue. The full title of the cartoon was 'Bertie Magoo – The Bitter Blue', with the title character depicted as a bitter and twisted Manchester City supporter. United fans adapted the term to refer to City supporters en-masse.

It Is All Because of a Fanzine…
Manchester United fans call Manchester City fans Berties after a cartoon character called Bertie Magoo that appeared in a club fanzine.
In 1989 'Red Issue' launched. Red Issue was a monthly fanzine published for Manchester United supporters during the football season.
Fanzines have slowly died out with the rise of the internet, although a few still exist.
They are essentially non-professional and non-official publications created by fans for fans.
As with most fanzines, Red Issue was largely satirical, poking fun at United's own players as well as opposing players and rival clubs.
Now of course by the mid-1990s, United were just starting a period of dominance of English football, whilst their local rivals, Manchester City, were embarking on a fall from grace that saw them slip into the third tier of English football for the first, and so far, only time.
The fanzine played on this by regularly featuring a comic strip about the exploits of 'Bertie Magoo – The Bitter Blue'.
Bertie was a moody, bitter Manchester City supporter.
Middle-aged and balding, he sported a blue nose with the word 'Loser' on it and wore a t-shirt saying 'Bell Better Than Best'. This was a reference to the two legends on either side of Manchester, Colin Bell and George Best.
RELATED ===> Revealed: The Best Retro Manchester City Shirts
It didn't take long for the name to be adopted for popular use by United fans, many of whom began referring to City fans as Berties (ie bitter blues).
The fanzine published its 295th and final edition in January 2015.
At the time the fans behind the publication said: "The game we've been clinging onto is gone. Football now is happy-clappy families, half-and-half scarves, tourists and selfie sticks; there's no point trying to fight that."
But whilst Red Issue may no longer be around, one of its creations – Bertie Magoo – lives on in history!
Why Are Manchester City Fans Called Plastics?
There probably isn't a dictionary definition of plastic fans, but I don't think I would be too far from the mark if I said plastic fans usually have a few distinguishing characteristics:
They usually don't have a deep knowledge of their club, in comparison to 'non-plastic' fans.
They will change allegiance or lose interest if their team is not doing well.
They often have no geographical or historical connection to the team.
In order to understand why some Manchester City fans are called plastics, let's have a very quick look at the recent history of the club.
Prior to 2012, Manchester City had won the top division of English football twice, 1936-37 and 1967-68.
In 1998 they were relegated to the third tier of English football.
They then gained two successive promotions to be in the Premier League by 2000, only to be immediately relegated and back in Division One as it was then in 2001.
They gained instant promotion back to the Premier League for the 2002-03 season and have been there ever since.
In 2006 they finished 15th in the Premier League, in 2007 they finished 14th.
In 2007, with City in financial trouble, former Thailand Prime Minister Thaksin Shinawatra purchased the club for £81.6million.
A year later Shinawatra, who was facing a number of corruption-related charges, had his assets frozen and sold Manchester City to investors from Abu Dhabi United Group for £200million.
On the very same day, Manchester City broke the British transfer record to sign Robinho from Real Madrid for £32.5million.
This was to be the start of a huge outlay of money from the new owners.
RELATED ===> Why Are Juventus Called The Old Lady?
In 2012 the club won its third top division title and its first since 1968.
In the ten seasons since then, Manchester City has won the Premier League five times and and finished as runners-up three times.
They have also won six League Cups and an FA Cup.
In the same period, many Manchester City fans have been called 'plastic' with accusations they only started supporting the club since they became successful and were nowhere to be seen during the more barren years of the club's history.
The thing is, this is true. Manchester City undoubtedly does have a larger fanbase now because of their success.
But the other thing is, this is certainly not limited to City.
Both Manchester United and Chelsea fans have been labelled as plastic fans over the past couple of decades.
When I was growing up in Kent in the 1980s there were lots of Liverpool 'fans'.
Certain people want to be associated with success and undoubtedly in the decades ahead, as fortunes change, the fans of many other clubs will be called plastic fans for exactly the same reasons many Manchester City fans have been given the tag today.
What I will say in City's favour is they have always had a strong fanbase.
In the 1998/99 season, when the club was at its lowest ebb and in the third tier of English football, it still had an average attendance of 28,261.
City's manager at the time was Joe Royle, he later said of that season: "We broke records everywhere we went. Clubs welcomed us with open arms and then set about trying to beat us. The City fans are up there with the best in the business; their support for the club through thin and thin has been outstanding."
RELATED ===> Why Are Nottingham Forest Called The Garibaldi?
Why Are Manchester City Fans Called The Citizens?
Manchester City has three 'official' nicknames.
City, The Sky Blues and The Citizens.
All are fairly self-explanatory.
The Citizens (or sometimes Cityzens), is a play on the word City as part of the club's name.
Some also suggest that it is a surreptitious way of mocking Manchester United, by saying City's fans are true Mancunian citizens, rather than fans from far away who have no real connection with the club.
Final Thoughts
So if you have always wondered why Manchester City fans are called Berties, now you have your answer.
It is after a fictional character in a cartoon created by the popular Manchester United fanzine Red Issue.
The cartoon was about 'Bertie Magoo – the Bitter Blue' with the title character portraying Manchester City fans as bitter and resentful of United's success at the time.
Such was the popularity of the fanzine that the name became a common term amongst United supporters for the fans of their city rivals.
The two other names for City fans are a little more straightforward to explain.
Plastics is a reference to the apparent transient nature of glory hunting fans, whilst The Citizens is simply an adaption of the club's City name.
---