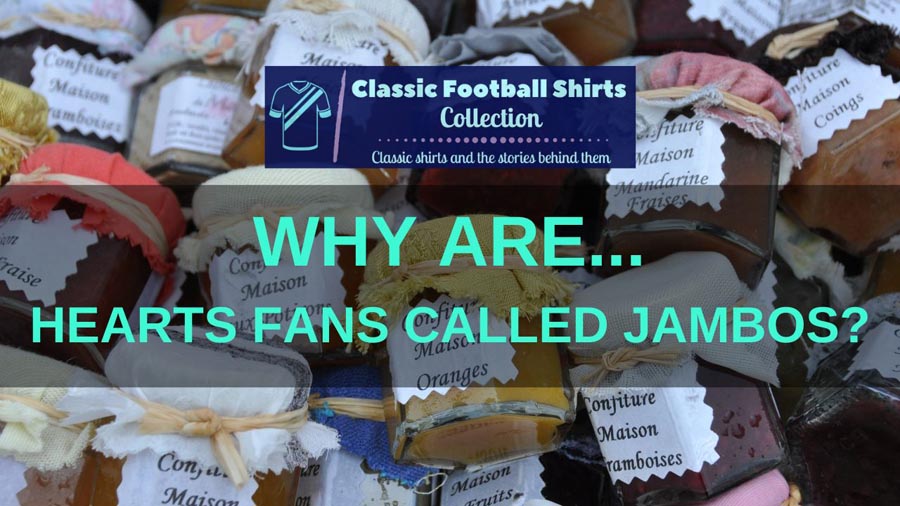 So you are thinking, why are Hearts fans called Jambos?
Maybe you have even used it yourself without knowing why.
The explanation is very straightforward.
And it is also fairly pleasant when it comes to the nicknames some fans have.
So let's learn a bit more.
Why Are Hearts Fans Called Jambos?
The name the Jambos comes from Heart's nickname, The Jam Tarts. The club picked up the nickname when Edinburgh-based soldiers returned from the First World War having mixed with Cockney soldiers and picked up rhyming slang. Hearts became the Jam Tarts, and the Jam Tarts fans became the Jambos.

During the War…
Heart of Midlothian has a long and illustrious history and was founded way back in 1874.
Within this history lies the reason behind the fan's nickname and the club's nickname.
To find out about it we need to go way back to the First World War.
During the First World War, a number of members of the Hearts squad made up McCrae's Battalion.
McCrae's Battalion was the affectionate name given by the people of Edinburgh to its local battalion. It was led by the charismatic Sir George McCrae, a former Liberal MP for Edinburgh East.
There was a strong link with Hearts Football Club.
Sixteen players enlisted, along with around 500 supporters and ticket holders. Unfortunately, seven Hearts players were to die during the First World War.
In fact, the battalion had a real link with football. It was also made up of supporters and players from Hibernian, Raith Rovers, Falkirk, Dunfermline Athletic and East Fife.
So strong was the link that the battalion was inducted into the Scottish Football Hall of Fame in 2014.
RELATED ===> Revealed: The Best Retro Scotland Shirts
As the First World War ended and the surviving men returned home something became evident.
Many of them had picked up the art of rhyming slang from mixing with cockney soldiers.
And Hearts all of a sudden were being referred to as 'the Jam Tarts'.
The derivation of that to the Jambos didn't come immediately. I read a forum post from a fan who said his dad was a big Hearts fan and grew up in the 1930s and 1940s, and the term Jambos didn't exist then.
It is believed it became part of popular usage from the 1950s onwards.
So the football team is known as the Jam Tarts, whilst the fans tend to be known as Jambos.
The nickname is one used more by opposing fans to describe Hearts fans rather than Hearts fans to describe themselves so it seems from my research.
The Jambos Have Had to Put Up With Some Heartache…
Fans of every team have had to put up with some disappointment, but when it comes to last day of the season agony, spare a thought for Hearts fans.
Twice Hearts have missed out on the title in heartbreaking fashion.
When you consider that their four league titles make them the third most decorated team in Scotland behind Rangers (55 titles) and Celtic (52 titles), it probably makes it even worse to come so close.
At the end of the 1950s Hearts were the best team in Scotland. In four seasons, they won two league titles and finished runners-up on the other two occasions.
Little did they know when they won the league in 1959-60 it would be their last league title (to date).
RELATED ===> Why Are Hibs Fans Called Spoon Burners?
The 1964/65 Season
But in the 1964-65 season, they came so close to clinching title number five.
With three games to go, they were three points clear (at a time of two points for a win) of Kilmarnock.
They drew against Dundee United and then beat Aberdeen.
This meant it all came down to the last game of the season. They hosted second-placed Kilmarnock at Tynecastle.
Hearts were two points clear so just needed to avoid defeat by two or more goals.
Unfortunately, Kilmarnock scored twice in the first 30 minutes and won 2-0 to take the title on goal average.
If goal difference had been used (it came into play in 1971-72) Hearts would have won the title.
The 1964/65 season is the only time that neither Celtic or Rangers finished in the top four. Dunfermline and Hibs finished 3rd and 4th.
The 1985/86 Season
A little over 20 years later Hearts lost the title on the last day of the season in an even more heartbreaking fashion.
After a terrible start to the season, losing six of their first nine games, Hearts found their groove.
They went unbeaten in their next 27 league games, winning 18 and drawing 9.
This meant they went into their last game of the season two points clear (it was still two points for a win at this point) and with a goal difference of +28 in comparison to the +24 of second-placed Celtic.
Hearts simply needed to avoid defeat away to Dundee to be certain of the title. Even if they lost it would take a big win from Celtic for them to take the title.
RELATED ===> Why Are Rangers Called Huns?
And Hearts hadn't lost a game of any kind since 28 September 1985, over seven months earlier. They also had the Scottish Cup Final to look forward to on 10 May 1986, exactly a week after their final league fixture.
But the 3 May 1986 was to be the start of a week of nightmares for The Jam Tarts.
At half-time they were drawing with Dundee, but Celtic had eaten up the goal difference deficit. They were 4-0 up against St Mirren.
Celtic added a fifth in the second half, but with ten minutes to go Hearts were top as they were still drawing with Dundee.
In a last throw of the dice, Dundee manager Archie Knox threw on substitute Albert Kidd.
By all definitions a journeyman striker, Kidd hadn't scored all season.
And then he did.
In the 83rd minute he gave Dundee the lead. Six minutes later he scored a second.
Hearts and Celtic both finished on 50 points, but Celtic's goal difference of +29 in comparison to Hearts' +24 meant they took the title.
The following week Hearts lost 3-0 to Aberdeen in the Scottish Cup Final.
A season of dreams had turned into a season of nightmares.
Final Thoughts
So as you can see Hearts fans are called Jambos as a result of Scottish soldiers picking up cockney rhyming slang from London soldiers during the First World War.
After the First World War, Hearts increasingly became known as the Jam Tarts.
And over time that derived to the Jambos for the fans.
So the team is generally known as the Jam Tarts and the fans as the Jambos. That is usually a term applied to them by other fans, Hearts fans don't call themselves Jambos.
Either way, it is a fairly affectionate nickname and a lot better than some other club's fans get laden with!
---