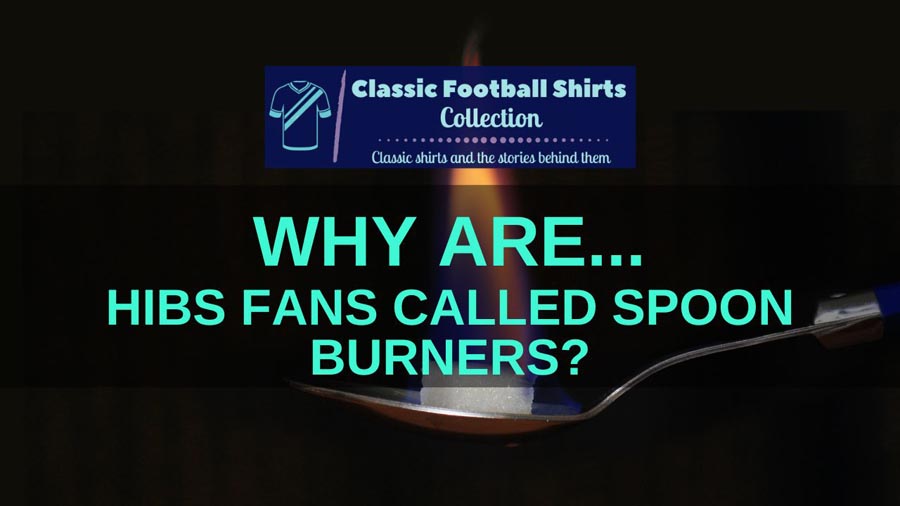 So why are Hibs fans called spoon burners?
It is a pretty unusual nickname, right?
If you think really hard about it, you might be able to work out the reason for it.
If not you can just read this article where we examine the story behind it.
So let's get started.
Why Are Hibs Fans Called Spoon Burners
The nickname spoon burners comes from the hit film Trainspotting about a group of heroin addicts from Edinburgh, where Hibs are based. The film had a strong Hibs presence with some of the characters wearing Hibs shirts and having Hibs posters in their rooms. A spoon burner is a slang name for an intravenous drug user.

It Is a Drugs Reference
A spoon burner is a nickname given to an intravenous drug user.
Spoon burners are so-called as they will put their drugs into a spoon, and then use a match or lighter to 'cook' the drug, so it becomes a liquid and can be injected into a vein.
One common drug associated with this practice is heroin.
Not a particularly complimentary nickname is it?!
It Comes From the Film Trainspotting
Now you might be wondering, why have Hibs fans been singled out for this nickname?
Well, it is all because of the 1996 film Trainspotting.
The film tells the story of a group of heroin addicts from Edinburgh and the attempts of one of the group, Renton, to kick his addiction and live a normal life.
The film was an adaptation of the novel of the same name by Irvine Welsh.
Irvine Welsh is a big Hibs fan and there are several references to the team in both the book and the film.
For instance in the book Renton, the main character who would be played in the film by Ewan McGregor, explains he chose to support Hibernian as they were outsiders and he identified with them.
In the film, many Hibs posters and pictures are visible on the walls of Renton's bedroom and Begbie (played by Robert Carlyle) wears a Hibs shirt when he is playing 5-a-side football.
Of course, fans of Hibs Edinburgh rivals Hearts took great joy in implying all Hibs fans were like the heroin-addicted characters in the film.
So they started calling them spoon burners.
RELATED ===> Revealed: The Best Retro Scotland Shirts
There is a Big Drugs Problem in Scotland
Trainspotting's release in 1996 painted the picture of Scotland being a country with a drug problem.
It is a problem that has gotten a lot worse since the film's release.
Annual figures released in 2021 showed that there were 1,339 drug deaths in Scotland in 2019.
That means Scotland has by far the highest drug death rate of any country in Europe – 318 per million of the population. Second on the list are Sweden and Norway, with 77 deaths per million.
It is a number that has tripled in the past decade alone and is much higher than the rest of the UK.
Scotland's 318 drug-related deaths compared to 87 for Northern Ireland, 52 for Wales and 48 for England.
Drug-related deaths for Edinburgh, where Hibs are based, have also tripled since 2000.
Between 2016 and 2020, there were 16 deaths per 100,000 of the population.
All this number looks relatively rosy in comparison to the Dundee area – 45 deaths per 100,000 people and the Glasgow area, 40 deaths per 100,000.
In all reality, it looks slightly hypocritical then for pretty much any other part of Scotland to chide Hibs fans as being drug users!
RELATED ===> Why Are Hearts Fans Called Jambos?
Who Is The Biggest Football Club In Edinburgh?
Probably the biggest culprit for labelling Hibs fans as spoon burners are the fans of their arch-rivals, Heart of Midlothian.
With both being based in Scotland's capital city, I thought it might be interesting to look at who is the biggest club in Edinburgh.
I have no dog in the fight being an Everton fan and not having a favourite team in Scotland, so I will try and base it on fact as much as I can!
Support
There is little to choose between the two teams here.
The average attendance for both over the past five seasons hovers around the 16,000 to 18,000 mark.
The capacity of both grounds is almost the same. Heart's home Tynecastle holds 19,582, whilst Easter Road, where Hibs play, holds 20,421.
Trophies
Hearts have the advantage slightly when it comes to the domestic league.
Hearts have won the top division of Scottish football 4 times, finished runners-up 14 times and come third 19 times.
Hibs have the same amount of top-flight titles – 4, and have finished second 6 times and third 14 times.
Neither team has won the Scottish top division for a while, but Heart's latest triumph is slightly more recent than Hibernian's. Hearts won the title in 1959-60, compared to Hib's last title in 1951-52.
RELATED ===> Why Are Rangers Called Huns?
Hearts also hold the upper hand in domestic cup competitions.
They have won the Scottish Cup 8 times and been runner-up 9 times. When it comes to the Scottish League Cup they have won that 4 times and been runner-up a further 3 times.
Hibs have won the Scottish Cup 3 times and been a beaten finalist on 12 occasions, and have also won the League Cup 3 times and been a runner-up on 8 occasions.
When it comes to European competitions Hibernian probably take the accolades. In the 1955-56 season they reached semi-finals of the European Cup, losing 3-0 to Stade Reims on aggregate.
Heart's best run in Europe came in 1988-89 when they made the quarter-final of the UEFA Cup only to lose 2-1 to Bayern Munich.
Overall
Looking at the above Hearts probably just nick it from Hibs, but there really isn't much to choose between the two.
When it comes to Scottish football Celtic and Rangers are streets ahead of everyone else, with Hearts, Hibs and Aberdeen competing for the title of the third most successful Scottish team.
Final Thoughts
I hope this has shed some light on why Hibs fans are called spoon burners.
It came from the film Trainspotting, which centered around a group of heroin addicts from Edinburgh.
It just so happens that Irvine Welsh, who wrote the book Trainspotting, is a big Hibs fan.
Consequently, a lot of Hibs paraphernalia found its way into the film, including Hibs posters in the bedroom of the main character.
A combination of a film about a bunch of Edinburgh heroin addicts, and the strong Hibs presence meant rival fans were not slow in nicknaming Hibs fans as spoon burners!
---