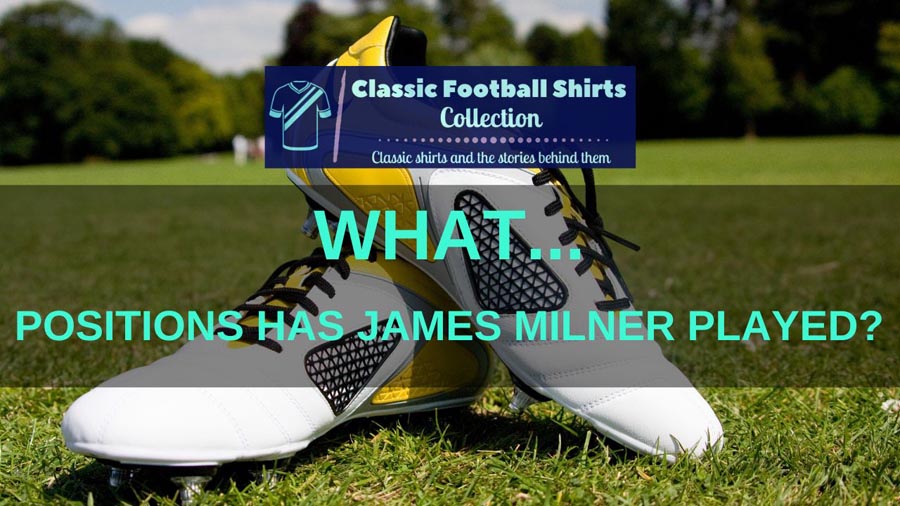 He is the most versatile footballer of modern times and one of the most versatile players ever.
But what positions has James Milner played?
The list is pretty much endless.
So let's take a closer look.
What Positions Has James Milner Played?
James Milner has played every outfield position. He has most frequently featured as a centre-midfielder, left midfielder or left back, but has also played as a right-back, right midfielder and emergency centre-forward. Although he has not started a game there he was also moved to centre-back during games on a couple of occasions in his Manchester City days.
The Evolution of James Milner
STAGE 1: 2002 to 2014. Leeds: 54 appearances, 5 goals.
Main Position: Left Midfield/Left Wing.
Other Positions: Centre-Forward, Right Midfield/Right Wing
James Milner burst onto the Premier League scene on December 2002.
He had made his debut the previous month, but it was on Boxing Day when he created a name for himself.
At the age of 16 years and 356 days he became the youngest player to score in the Premier League with a goal in a 2-1 win against Sunderland.
Two days later he scored again against Chelsea.
Milner played both of those games as he would much of his career at Leeds, as a wide left midfielder/winger, occasionally used as a central striker.
Milner had been with Leeds since the age of 10 and was one of those kids at school who was good at everything.
Academically he gained 11 GCSEs, and on the sporting pitch his prowess wasn't just limited to football.
He played for the Yorkshire Schools cricket team and was the cross-country champion at his school for three years in a row and the district champion over 100m for two consecutive years.
STAGE 2: 2004 to 2008. Newcastle: 136 appearances, 11 goals.
Main Position: Centre-Midfield, Left Midfield/Wing
Other Positions: Right Midfield/Wing,
In 2004, Milner, who was still only 18, agreed a £5million move to Newcastle.
His first Premier League start came on the right-hand side of midfield, despite most of his appearances for Leeds coming on the other flank.
His early career at Newcastle was spent on the wing, but as time went on he became more frequently used in the centre of the pitch to make the most of his endless reserves of energy, his tough tackling nature and his willingness to receive the ball and create opportunities.
RELATED ===> Revealed: The Best Retro Liverpool Shirts
STAGE 3: 2008 to 2010. Aston Villa: 126 appearances, 22 goals.
Main Positions: Centre-Midfield
Other Positions: Left Midfield/Wing, Right Midfield/Wing
Milner had already had a successful loan spell at Villa Park before returning there permanently in 2008 for £12million.
In his loan spell he had been used as a wide midfielder, but when he returned he soon moved permanently into the centre-midfield position he had begun to occupy at Newcastle after Villa sold captain Gareth Barry to Manchester City.
He took on the mantle from Barry very successfully and was Villa's Player of the Year in 2009/10 and also the PFA Young Player of the Year (made all the more remarkable by the fact he had made almost 250 Premier League appearances by then!).
STAGE 4: 2010 to 2015. Manchester City: 203 appearances, 18 goals.
Main Positions: Centre-Midfield, Left Midfield, Right Midfield
Other Positions: Right Back, Left Back, Centre-Back, Centre Forward
In 2010 Milner completed a £26million move to Manchester City, and it was here he showed his versatility more than ever.
In fact then City manager Roberto Mancini recognised this, saying: "He is an excellent midfielder, who can play in a number of positions."
Milner held his own in midfield alongside the likes of Yaya Toure and David Silva, but was also used on occasion as an emergency full-back and had a three-game stint for City as centre-forward when Sergio Aguero was injured.
On two occasions he even moved to centre-back as City attempted to see out games.
RELATED ===> Has Virgil Van Dijk Ever Lost At Anfield?
STAGE 5: 2015 to Present. Liverpool: 298 games, 26 goals
Main Positions: Centre Midfield, Left Back
Other Positions: Right Back, Left Midfield, Right Midfield
When Milner moved to Liverpool on a free transfer in 2015 at the age of 29, most people could have been forgiven for thinking his best days were behind him.
But he has gone on to have his longest and most successful spell at any club in his career.
Milner's first season was spent mainly in centre-midfield, but for the 2016-17 Jurgen Klopp moved him to left back and he has since split much of his time at Anfield between full-back and centre-midfield.
Milner's ability to cover a range of positions has seen him remain a regular in the Liverpool team, despite the fact he is approaching 37.
He has played over 35 games in each of his seven seasons at the club so far.
2009 to 2016: England: 61 games, 1 goal
Main Position: Centre Midfield, Left Midfield, Right Midfield.
Other Positions: Right Back, Left Back.
By the time James Milner began his career for the senior England team in 2009 he had already made a record 46 appearances for England Under 21s.
If you look at his profile on the official England stats website you will see the vast majority of his appearances have come across the midfield.
He has delivered the consistency of performance we have become accustomed to at club level to the point Gareth Southgate sounded out about coming out of retirement for the 2018 World Cup.
RELATED ===> Does Liverpool Have A Firm?
The Amazing Premier League Record James Milner Holds
Amongst his many trophies, caps and awards there is one particularly impressive record James Milner holds.
Since scoring his first Premier League goal for Leeds back in 2002, up until his last Premier League goal for Liverpool against Leicester in 2019, Milner has scored in 54 Premier League games and never lost once.
That is a Premier League record.
Although it could possibly be eclipsed by Gabriel Jesus who has scored in 50 games and not suffered defeat.
Milner also currently sits 4th in the all-time Premier League appearance list:
Gareth Barry 653 games
Ryan Giggs 632 games
Frank Lampard 609 games
James Milner 594 games*
David James 572 games
*as of 4 September 2022.
Final Thoughts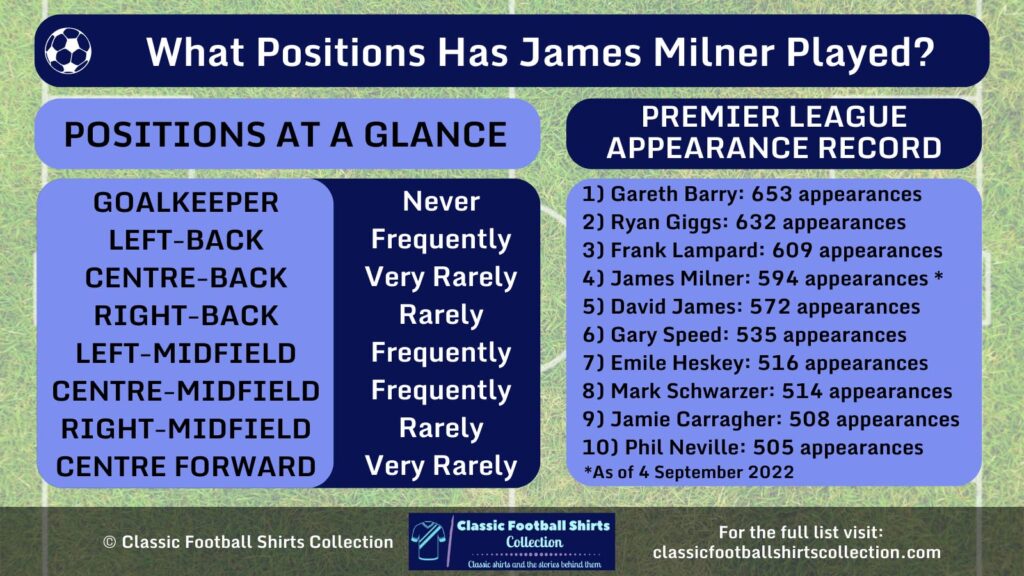 James Milner must be one of the most under-rated, under-the-radar players in the history of the Premier League.
Quietly going about his game without any fuss, turning in consistent performances season after season in literally every position.
James Milner has played every outfield position on the pitch, but has James Milner ever played in goal?
Well not yet, but there is still time!
---