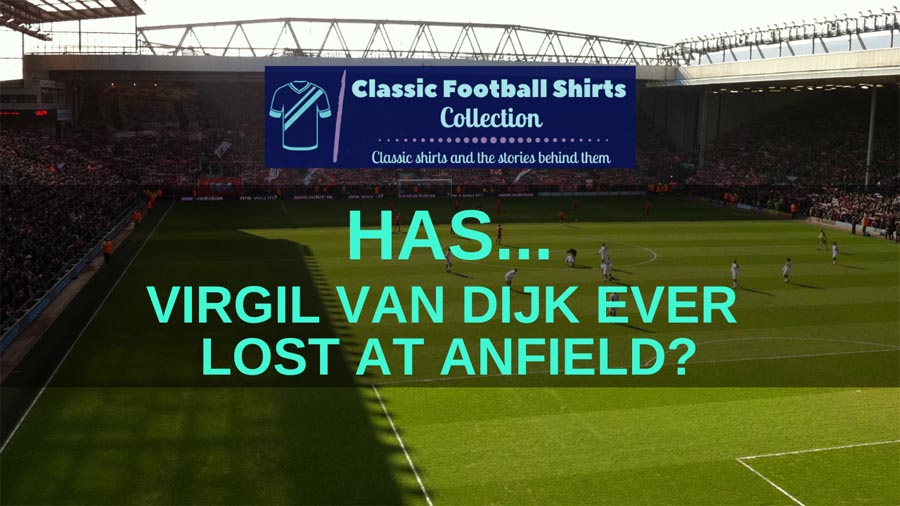 Ah I love writing these kinds of articles.
So has Virgil van Dijk ever lost at Anfield?
Well you are either finding this article as he has extended his record even further or because it has finally been broken.
If it is the latter and I haven't updated this post please drop me a comment reminding me to do so.
Whoops, I think I have just given away the answer to this question.
Or have I?
Has Virgil Van Dijk Ever Lost At Anfield?
**STOP PRESS: Virgil van Dijk finally lost this record on 29 October 2022 after Liverpool lost 2-1 to Leeds at Anfield. He had previously gone 70 Premier League games without defeat there.**
As of October 2022, Virgil van Dijk has lost four times at Anfield, once appearing there for Southampton and three times for Liverpool. However the three home defeats for Liverpool were all in cup competitions meaning the Dutch international has gone an amazing 67 home Premier League games without defeat since his debut for Liverpool in February 2018.

Yes He Has Lost at Anfield
The first occasion Van Dijk tasted defeat at Anfield was on 18 November 2017 when two goals from Mo Salah and one from Philippe Coutinho gave Liverpool a 3-0 win over Southampton in the Premier League.
Yes, Van Dijk was still a Saints player then, so I guess that doesn't really count.
He has also played in all of the following games at Anfield which Liverpool have lost:
27 January 2018: 3-2 defeat to West Bromwich Albion in the FA Cup 4th Round.
11 March 2020: 3-2 defeat (after extra time) to Atletico Madrid in the UEFA Champions League Round of 16.
8 March 2022: 1-0 defeat to Inter Milan in the UEFA Champions League Round of 16.
The first of those games was just his second appearance at Anfield for Liverpool, his first being in the 3rd Round of the FA Cup in 2018 when he scored a late winner in a 2-1 win against rivals Everton.
This made him the first player since 1901 to score on his debut in a Merseyside derby and only the second ever.
But the more eagle-eyed amongst you might have noticed something about that list of home defeats Virgil van Dijk has suffered…
RELATED ===> Revealed: The Best Retro Liverpool Shirts
He Has Not Lost a Home League Game for Liverpool
Since making his debut at Anfield in a game against Tottenham on 4 February 2018, Virgil van Dijk has not lost a home league game.
As of October 2022 that is a run that spans 67 home league games, a Premier League record.
Those games have seen 57 wins for Liverpool and ten draws.
In those 67 games Liverpool have conceded 42 goals and kept 35 clean sheets.
Van Dijk's importance to the team is shown by his absence from the team for nearly all of the 2020/21 season.
He suffered an ACL injury against Everton in the 5th game of the season in October and missed the rest of the season.
During that period without Van Dijk Liverpool lost six of their 17 home league games and conceded 16 goals.
Who Was the Previous Record Holder?
When Van Dijk played in Liverpool's 1-0 win over West Ham on 5 March 2022 it was his 60th home league game without defeat.
This saw him surpass the previous record holder for the most Premier League home games without defeat.
RELATED ===> What Positions Has James Milner Played?
As you can imagine the list of players with the longest unbeaten home runs is dominated by players from the competition's most successful sides:
67: Virgil van Dijk, Liverpool*
59: Lee Sharpe, Manchester United
42: Shaun Wright-Phillips, Chelsea
41: Alex, Chelsea
40: Jaap Stam, Manchester United
35: Arjen Robben, Chelsea
25: Andriy Shevchenko, Chelsea
24: Albert Riera, Liverpool
23: Javi García, Manchester City
*Unbeaten run still going as of 1 October 2022
So the previous record holder was former Manchester United and England winger Lee Sharpe.
Lee Sharpe's run took him from the start of the inaugural Premier League season through to August 1996.
Sharpe's run also shows how easily the record can be broken if you move away from the Premier League's more dominant clubs.
On 10 August 1996 Lee Sharpe left Manchester United and officially became Leeds United's record signing at £4.5million.
On 20 August 1996, after 59 home games unbeaten for Manchester United, he made his home league debut for Leeds and they promptly lost 2-0 to Sheffield Wednesday.
Also in fairness, Lee Sharpe made his debut for Manchester United in 1988 and had lost home league games previously.
But they were before the formation of the Premier League.
RELATED ===> How Many Times Have Liverpool Been Relegated?
Could Anyone Break His Record?
Well you don't have to look too far to see a contender to break Van Dijk's record.
In May 2022 his centre-back partner Ibrahima Konate set a record for the longest unbeaten start to a player's career at Liverpool.
Konate went 28 games without defeat from making his Liverpool debut in September 2021 through to suffering defeat in Liverpool's very last game of the season, the Champions League Final against Real Madrid.
This saw him break the previous record of 23 games set by Ray Houghton in 1987/88.
He still has not lost a league game for Liverpool, but so far that number only stands at 11 so he has a long way to go.
However he has not lost a league game he started of any kind since he was in the Leipzig team beaten by Borussia Dortmund on 19 January 2016.
So you never know…
Final Thoughts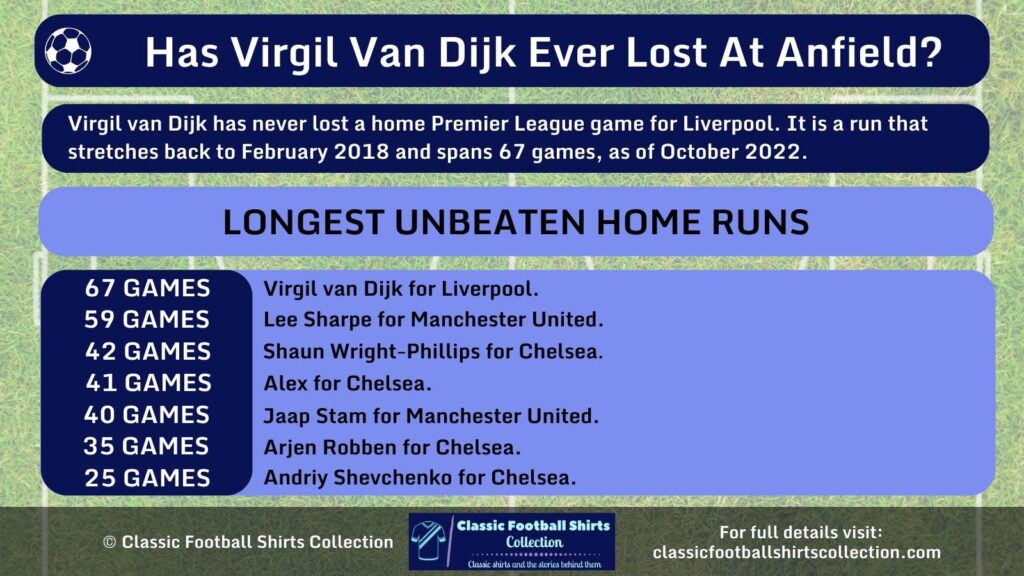 Yes Virgil van Dijk has lost at Anfield, four times at the time of writing (October 2022). Once when he played there for Southampton and three times for Liverpool.
However all of his defeats there for Liverpool came in cup competitions.
So he has never lost a home league game for Liverpool.
A run that started in February 2018 and now stands at 67 games in October 2022.
This is a Premier League record.
It looks even more impressive in light of the fact that when he missed almost the entirety of the 2020/21 season through injury Liverpool lost SIX home league games in a row.
---