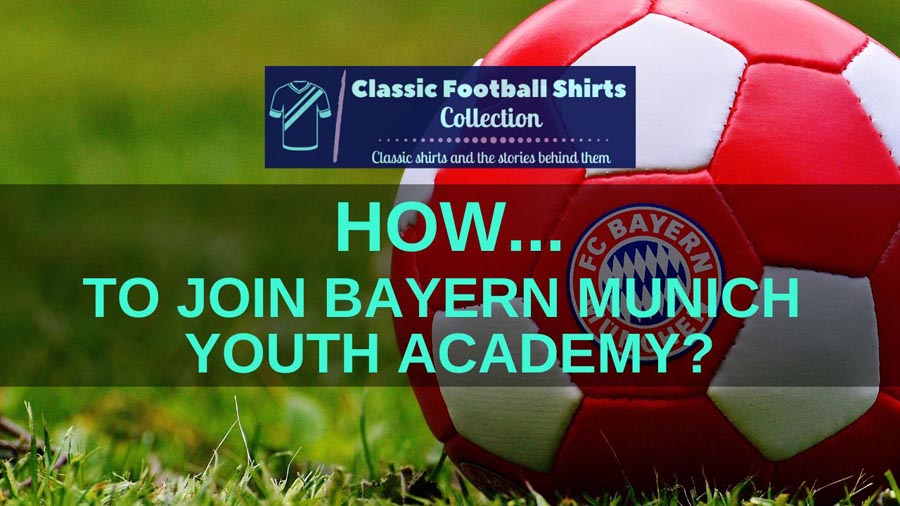 Bayern Munich is undoubtedly the biggest team in Germany, and one of the biggest in the world.
Whilst they have the financial muscle to outmaneuver any team in the country a great deal of the club's historical success has been built on its stellar youth setup.
Numerous graduates from its academy have gone on to become legends for both club and country.
So let's find out how to join the Bayern Munich Youth Academy.
How To Join Bayern Munich Youth Academy?
Bayern has admitted that whilst it has scouts worldwide, it does focus its recruitment of youth players mainly on Munich and the immediate area. The best way to bring yourself to the attention of the club is to attend its annual Talent Day for 6 to 10-year-olds, which takes place over a weekend each spring.

Bayern Munich Youth Academy: An Overview
Bayern Munich's youth academy was created way back in 1902, just two years after the club was founded.
Whilst the academy provided a steady stream of players for the first team in the first half of the 20th century, it was from the 1960s onwards that it really came into its own.
In 1959 both Franz Beckenbauer and Sepp Maier joined the Bayern Munich academy and would go on to make over 1,000 appearances for Bayern and almost 200 appearances for Germany between them.
In the 1970s and 1980s players like Klaus Augenthaler. Raimond Auman and Hans Pfugler followed suit, all picking up World Cup winners' medals.
In the last 30 years, the academy production line has been even richer.
Philip Lahm, Mats Hummels, Owen Hargreaves, Bastian Schweinsteiger, Thomas Muller and Emre Can are just a handful of players that have made a major mark on the footballing world after graduating from the Bayern youth academy.
This is at least in part due to a major restructuring of the youth academy in 1995.
It was in this year that Karl-Heinz Rumminegge and Uli Hoeness realised that to dominate European football, Bayern needed players who lived and breathed the club's traditions, and only knew how to play the Bayern Munich way.
Then in 2006, Bayern purchased land near its AllianzArena stadium, to build a new youth academy.
In 2015 the €70 million project finally began, with the new FC Bayern Campus, as it is called, being opened on 1 August 2017.
All of Bayern's youth teams, from the Under-9s to the Under-19s play and train here.
As well as eight full-sized football pitches, there are several mini-pitches and a sports hall for basketball, handball and table tennis.
There are also 35 apartments for players who do not live in the Munich area, a fitness park, bistro and areas for staff and coaches.
Up until the Under 11 age group, games are played on condensed pitches in seven-a-side formations.
From Under 12 onwards, 11 v 11 games are played with all teams adopting the 4-3-3 formation that is used by the First Team.
Alongside football abilities, the club also puts a strong emphasis on 'holistic development'. All players are expected to adapt to fit the Bayern Munich system rather than vice-versa.
RELATED ===> How to Join Barcelona Youth Academy?
Attend the Talent Days
Such is the demand for trials at Bayern Munich, that you can't simply contact the club and ask for a trial.
Well you can, but you won't get anywhere with it.
Your best bet is to keep tabs on the Bayern Munich website and Bayern Munich Facebook page for details of the club's annual 'Talent Day'.
The Talent Day is really a talent weekend for 6 to 10-year-olds, that takes place every spring.
Over 500 budding young footballers try out for a place in the Bayern Munich academy on a Saturday and Sunday under the watchful eye of 20 Bayern Munich training staff.
Each year an average of seven young people make it into Bayern's junior teams as a result of taking part in Talent Day. It has drawn participants from as far afield as Australia.
The club officials run a series of 20-minute, five-a-side games on condensed pitches, and pay attention to how players "cope with the ball", their skill, dribbling and vision.
RELATED ===> Revealed: The Best Retro Bayen Munich Shirts
Wolfgang Dremmler, a former Germany international and former Head Scout at Bayern explains a bit more:
"There are around 500 kids being watched from the touchline by 20 of us. At the end, we get together and share our impressions, and decide on the players who, in our opinion, are in contention. Then, the next step is to write to the parents. Every participant gets a written report from us afterwards, by the way.

"Then we apply for a playing permit, and the kids are eligible to play for our youth teams. Last year we picked seven players, which is generally about average – basically one full seven-a-side team. Out of 183 players in our Junior team organisation, 23 were discovered on talent days. The oldest of them is currently in the under-15s. In total, around 6500 kids have taken part in our talent days so far."
Join One of Bayern Munich's Partner Clubs
Whilst making it through, or even to, one of Bayern Munich's Talent Days might be a step too far, getting noticed by one of Bayern's partner clubs is much more obtainable.
In 2003 the German giants began partnering with other clubs both regionally and nationally.
For instance, in 2020 it was announced that the German Fourth Division club SV Ulm 1864 were the latest club to be partnered with Bayern.
Bayern has a host of partners regionally, with Bayern being able to keep tabs on the best players at each club, with players able to train at both their parent club and Bayern as necessary.
Bayern also has international partner clubs, such as FC Dallas in USA.
This agreement has led to a number of FC Dallas players training with Bayern Munich.
The most notable example was the American Chris Richards who went to Bayern from FC Dallas on a 10-day trial in May 2018.
So impressed were the German club by Richards that they offered him a one-year loan, which became permanent in January 2019.
He made his senior debut for Bayern in July 2018 in a friendly, when he was just 18. In June 2020 he made his Bundesliga debut, and in November 20202 he made his Champions League debut.
In July 2022 he joined Premier League team Crystal Palace for €12million.
RELATED ===> How to Join Ajax Youth Academy?
Attend a Bayern Munich Football Camp or Youth Cup Competition
Bayern runs a series of football camps and events in Germany, as well as its own Youth Cup competition.
The Youth Cup competition takes place around the globe in locations including Greece, Mexico, Ethiopia, Thailand and China.
There are also FC Bayern football schools established in China, Thailand, Japan, Singapore, Ethiopia and USA.
All of these schools and camps are run by qualified FC Bayern youth coaches and will bring you to the attention of the club if you are good enough.
Final Thoughts
Bayern admit that whilst they have scouts all over the world, "the reality is that the scouts focus mainly on the area within a 2 to 3-hour driving radius of the club".
So to join the Bayern Munich youth academy, really you need to be from in or around the city.
If you do, and if you are a very good young footballer, find out when the club's next Talent Day is, and get yourself along!
Or join one of its partner clubs and bring yourself to Bayern's attention by playing for them.
There is also a small pool of accommodation at the new Bayern Munich youth training centre for players who do not live in the Munich area.
So if you do live further afield it isn't out of the question you could join the Bayern academy, but you will have to be very good.
Very good indeed.
---