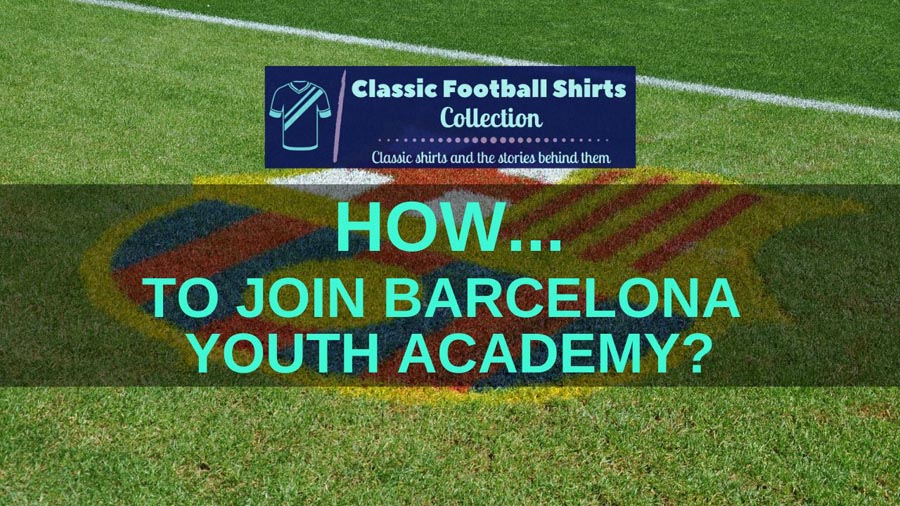 Barcelona's fabled La Masia youth academy has a reputation like no other.
Perhaps only the Ajax youth academy can run it close in terms of the quality of players it has produced.
And of course, probably the most famous graduate of La Masia is widely acknowledged as the greatest player to have ever played the game.
So you want to know how to join the Barcelona youth academy?
Well let's find out…
How to Join Barcelona Youth Academy?
There are a series of regional and international Barcelona academies spread across the globe that are open to applications and tryouts. However the main Barca Escola, which feeds the fabled La Masia academy, is only open to applications to those aged between 6 and 12 years old and who live with their family in Catalonia.

Barcelona Youth Academy: An Overview
La Masia is merely the pinnacle of the Barcelona youth setup.
Only the very cream of the crop makes it that far.
The Barcelona youth academy is actually a multi-pronged setup, made up of the following:
#1 Barca Academy
There are over 30 Barcelona academies across the globe.
They are essentially sports schools for young people aged between 6 and 18, that replicate the values, traditions and coaching styles of FC Barcelona.
Spread around the world you can find your nearest Barcelona academy on the academy website.
#2 Barca Academy Pro
Barcelona has three Academies Pro, located in New York, Miami and Brazil.
According to the Barcelona "they are located in strategic points for the club both at a sporting and commercial level".
Now this does perhaps sound like it is a money-making exercise, but they are all led by a fully certified set of Barcelona coaches.
As for the difference between the Barca Academy and Barca Academy Pro… Well I am not 100% certain!
Despite spending a lot of time reading up on the two I couldn't work out the difference between one and the other!
#3 Barca Residency Academy
Barcelona has one international residential academy, and that is located in Casa Grande in Arizona, USA.
Based around 58,000 square-foot state-of-the-art training facilities, students live, attend school and train on-site.
Everyone who graduates gets a college scholarship or signs a professional contract and also have the backing of a set of full-time, professional staff, including coaches from Barcelona.
The Residency Academy has regular try-out camps for those wanting to join the academy.
RELATED ===> Revealed: The Best Retro Barcelona Shirts
#4 Barca Escola
Now Barca Escola is where things get serious.
It is a football training school for young people aged between 6 and 12 years old, located at Barca's academy base, Ciutat Esportiva Joan Gamper.
Barca Escola is the step before La Masia.
#5 La Masia
La Masia is where the best students at the Barca Escola will progress to.
La Masia can accommodate 83 people and is where the stars of the future, eat, sleep, learn and play football.
It features a kitchen, dining rooms, a gym, a massage room, classrooms, leisure rooms and much much more.
At around £5million a year, the academy is one of the most expensive in Europe, but it has paid itself back many times over.
In 2010 all three finalists for the Ballon d'Or, were from La Masia, Andres Iniesta, Lionel Messi and Xavi, and other notable graduates include Sergio Busquets, Carles Puyol, Gerard Pique, Pep Guardiola, and Jordi Alba.
In 2012 Barcelona fielded an entire team that had come through La Masia, and as of 2023 twenty-one players that graduated from the academy had made over 100 appearances for Barcelona.
RELATED ===> How to Join Bayern Munich Youth Academy?
You Can Apply to Join the Barcelona Youth Academy
With the exception of La Masia, you can apply to join any of the Barcelona Youth Academies mentioned above.
Now obviously this doesn't mean you are going to become a Barcelona player!
But if you are an exceptionally talented footballer, it will put you in front of coaches affiliated with the club on a regular basis.
They all have a different application process, but you can find out more about the Barca Academies, the three Barca Academies Pro and the Barca Residency Academy on the Barcelona Academy website.
The Barcelona Academy website also has full details of the Barcelona soccer camps the club runs across the globe.
But Joining the One That Matters is Much More Difficult
If you are thinking seriously about a career in football and most notably with FC Barcelona, it will be Barca Escola you want to join.
Barca Escola provides the students for the fabled La Masia.
Therefore if you can get into Barca Escola and thrive, you will be promoted to La Masia, where the likes of Messi, Busquets and Iniesta learned their skills.
To apply to join Barca Escola, you must meet the following criteria:
You must be between 6 and 12 years old.
You and your family must be living in Catalonia.
You must pass the entry exams.
Barcelona also actively recruit students from outside the region, but in the first 30 years of La Masia, half of the 440 residents came from Catalonia.
The other half came from other parts of Spain or further afield.
If you don't meet the requirements listed above then you need to be scouted by Barcelona.
Barcelona has 15 scouts located in Catalonia, 15 in the rest of Spain, and then 10 across the rest of the world.
But if you are outside of Catalonia, and you are a uniquely talented footballer then the chances are the club will find you, as was the case was Lionel Messi.
Find out more about having trials for Barca Escola.
So Play For The Best Team in Your Area
The old adage of the cream always rises to the top, is true when it comes to football.
Let's take Lionel Messi as an example.
He isn't from Catalonia, in fact, he was living over 10,000km (6,000 miles) away across the Atlantic Ocean when he was spotted by Barcelona.
So that goes to show if you are good enough, you still can get noticed by the club even if you don't live in Catalonia (or Spain).
So find the best team in your area and ask them for a trial.
Because if you are going to be good enough for the Barcelona academy you need to be good enough to play for Average Town FC (or Newell's Old Boys in the case of Messi).
RELATED ===> How to Join Ajax Youth Academy?
Make a Video Reel
Making your own video reel to showcase your footballing talents is something that can only benefit your chances of making it with a professional club, Barcelona or otherwise.
Put together something short and snappy that shows all the aspects of your game, as well as showcasing your personality.
It might not win you a place in the Barcelona academy, but it could help you get your foot on the ladder elsewhere.
The video above gives some useful hints on how to make an effective video reel.
Final Thoughts
The first thing you will need if you want to join the Barcelona Youth Academy is a huge amount of footballing talent.
You will need to be one of the best young footballers in your country if not the world.
Then ideally you will need to live in Catalonia, if you don't then you cannot apply for a trial at Barca Escola, you will need to wait for the club to contact you.
So if you don't get approached by Barcelona, find the best local club in your vicinity and contact them.
If you really are that good they will most likely be happy to offer you a trial.
From there, let your feet do the talking, if you are a good enough player to make it to the top it will be recognized somewhere down the line.
Good luck!
---