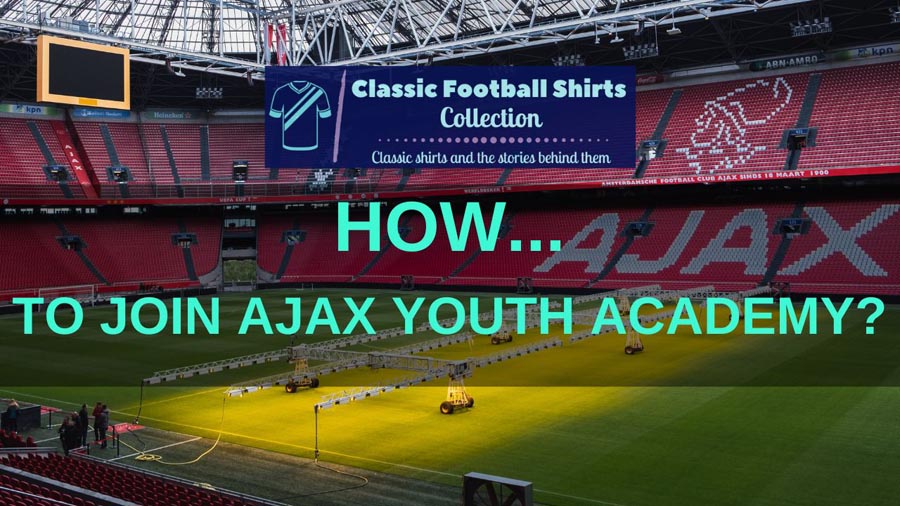 It might just be the best youth academy in the history of football.
It certainly has produced some of the world's greatest players, so if you are part of it you must be very special indeed.
But how do you join the Ajax Youth Academy?
Let's find out…
How to Join Ajax Youth Academy?
Ajax makes it quite clear that they do not consider applications to join its famous youth academy instead they extend invitations itself "after a long and deliberate scouting process". The club has 50 scouts based in the Netherlands, so if you are an exceptionally talented young footballer playing in the country, it is likely they will see you.

Ajax Youth Academy: An Overview
Everyone involved in senior football in any way has heard of 'De Toekomst', translating as 'the future', it is the name of Ajax's famed youth academy.
De Toekomst has been responsible for producing some of the world's greatest players, including Johan Cryuff, Marco van Basten, Frank Rijkaard, Dennis Bergkamp, Edgar Davids, Patrick Kluivert and Christian Eriksen.
What is even more remarkable is it is estimated almost a third of all first-team players in Dutch top flight have attended De Toekomst at some point in their development.
Way back in the 1960s Ajax developed a way of playing that would influence the game forever.
Known as 'Total Football', the system forms the basis for the style of play at the academy, with a 4-3-3 formation, played across all age groups at the club.
The academy at Ajax runs right from Under 6 level up to Under 19 and Reserve team level.
Up until Under 8: 4 v 4 games are played on a pitch that is 30m by 20m.
Under 9: 6 v 6, 40 x 30m pitch.
Under 10: 8 v 8, 50m c 40m pitch.
Under 11: 9 v 9, 60m v 50m pitch.
Under 12: 11 v 11, full-sized pitch.
From Under 12 level, 11-a-side games are played on a full pitch, but there is a strict emphasis on not over-training.
From 8 to 12 years old players only train three times a week and play a game at the weekend, then from 12 to 16 years old players train five times a week with a game at the weekend.
There is no cost to be part of the academy, except a very small insurance fee (which amounts to around €12 per annum) and players do not live on site.
However, in 2015, a school building was opened so players can study on the grounds of the academy.
At the start of each year players are told of their status in the academy, whether they are safe or at risk of being 'sent home'.
The final stepping stone in the academy setup is Ajax A1 (or Ajax Under 19s). After this players will go on to the Ajax First Team, Ajax A2 (also known as Young Ajax, essentially Ajax Reserves) or be released.
The club's aim is to promote two or three players from its youth setup to the First Team every year.
RELATED ===> Revealed: The Best Retro Ajax Shirts
You Must Be Asked to Join Ajax's Academy
If you visit the Ajax Youth Academy website, it says quite clearly:
"Ajax's youth academy cannot accept individual external applications. Ajax only extend invitations after a long and deliberate scouting process. Applications for the Ajax youth academy by mail and/or email will not be considered."

Ajax Academy website
So in other words, don't call us we will call you!
You Will Almost Certainly Need to Be Based in the Netherlands
So having established you need to be scouted by Ajax and invited to join its academy, it begs the question, what is the best way of being spotted by the club? Aside from being very good at football of course.
Well, first of all you will need to be playing for a youth team in the Netherlands it seems.
The European Club Association 'Report on Youth Academies in Europe' revealed that Ajax Youth Academy has 55 scouts.
Of those 55, fifty of them are based in the Netherlands, and the academy defines its zone of recruitment as 50km around Amsterdam.
What is more 95% of the roughly 200 players in De Toekomst have Dutch nationality.
In short, find a local club and get noticed!
Here is a quick rundown of where some of Ajax Academy's most famous graduates started their career:
Frank and Ronald de Boer: VV De Zouaven (joined Ajax aged 13)
Frank Rijkaard: SC Buitenveldert, Blauw-Wit Amsterdam and DWS (joined Ajax aged 16)
Aron Winter: VV Unicum and SV Lelystad (joined Ajax aged 16)
Patrick Kluivert: Schellingwoude (joined Ajax aged 7)
Clarence Seedorf: VV AS' 80 and Real Almere (joined Ajax aged 16)
Daley Blind: Amsterdamsche FC (joined Ajax 8)
Wesley Sneijder: DOS (joined Ajax aged 7)
Donny van de Beek: Veensche Boys (joined Ajax aged 9)
Matthijs de Ligt: Abcoude (joined Ajax aged 9)
This reiterates the point that if you are an exceptional footballer and play in the Netherlands, there is a good chance an Ajax scout will spot you.
Join an Ajax Football Camp
The club also runs a series of football camps and clinics around the world.
All of the camps and clinics are based on the exact same principles that the Ajax Youth Academy adheres to.
According to the Ajax website any young person aged 6 to 16 can take part, 'regardless of their level of play'.
But obviously as the camps and clinics are run by the club, and those in the Netherlands take place at De Toekomst itself, they will keep an eye out for young talent.
And if you are particularly good, they will certainly track your progress.
In fact, the International Camps promise that top players could be "invited to train at the official Ajax Amsterdam training facility".
RELATED ===> How to Join Barcelona Youth Academy?
Make a Video Reel
One thing you can do to make yourself stand out is to create your own video reel.
Whilst this might be unlikely to get you a trial at Ajax, it could get you an opportunity at one of Ajax academy's feeder teams around the city.
So create something that showcases your skills, and try contacting some of the clubs local to Ajax.
They are more likely to give you an opportunity, and that will put you in a better position to be spotted by Ajax scouts.
The video above gives some tips on how to make an effective video reel.
Final Thoughts
As the Dutch giants themselves say "Ajax only extend invitations after a long and deliberate scouting process".
Trying to contact them to arrange a trial for yourself will reap no rewards.
The club has 50 youth academy scouts based across the Netherlands, quite a considerable amount for a country that ranks 32nd out of 49 European countries in terms of size.
What that means is, if you are an exceptionally talented young player playing in the Netherlands, then there is a very good chance an Ajax Amsterdam scout will take note of you.
And if you impress them enough over the aforementioned 'long and deliberate scouting process', they will invite you for a trial and you could end up joining the world-famous 'De Toekomst'.
Good luck!
---