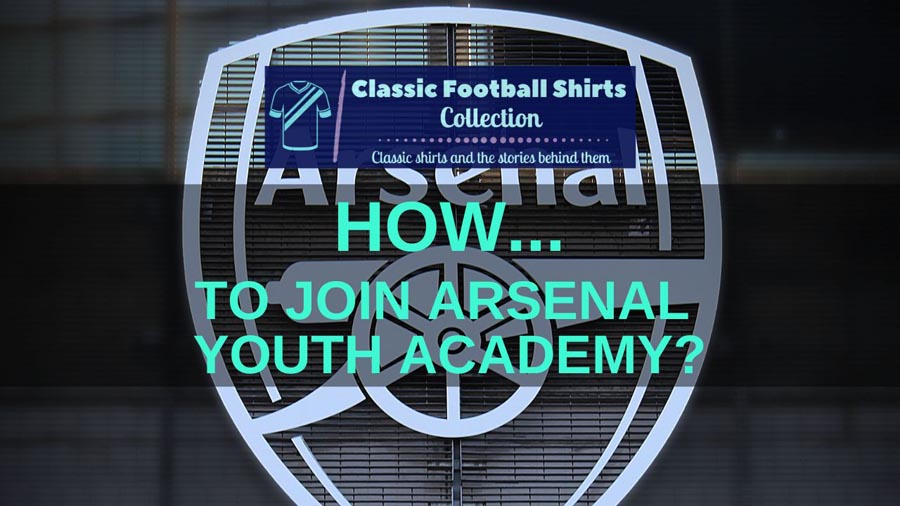 Arsenal has one of the most successful youth academies in England, winning numerous titles and producing a string of players who have gone on to represent club and country.
It is no wonder it is one of the most sought-after places for young footballers to learn their trade.
So how can you join the Arsenal Youth Academy?
Well, that is what we are taking a look at in this blog today.
So let's get started…
How to Join Arsenal Youth Academy?
You must be scouted by Arsenal and asked to join their youth academy, writing to them to ask for a trial is unlikely to elicit any response. However, asking a non-league team local to Arsenal for a trial is more likely to be successful. If you do that then you are much more likely to catch the eye of an Arsenal scout and get the chance to join the club's academy.

Arsenal Youth Academy: An Overview
Based in Hale End, East London, Arsenal's youth academy is the facility for the club's 9 to 16-year-olds.
Once an academy player reaches the age of 16, the academy will make a decision on whether to offer them a two-year scholarship.
In exceptional circumstances, a 16-year-old can be offered a professional contract which they are permitted to formally sign at the age of 17 and become a professional footballer.
But prior to reaching that stage, the player must obviously have excelled in the academy.
Arsenal's academy is one of the most distinguished in England. They have more Premier Academy titles than any other team and only two teams have won more FA Youth Cups than the Gunners.
The list of players who have progressed from Arsenal's Youth Academy to the first team illustrates just how successful the academy has been.
In recent years Hector Bellerin, Cesc Fabregas, Kieran Gibbs, Serge Gnabry, Alex Iwobi, Emile Smith Rowe and Bukayo Saka have all made the step up from the youth academy to both the first team and their respective countries.
A bit further back and graduates include Liam Brady, Kevin Campbell, Ashley Cole, Paul Davis, Martin Hayes, Martin Keown, Paul Merson, Ray Parlour, Pat Rice, Graham Rix, David Rocastle and Frank Stapleton.
It is no wonder so many young footballers aspire to join the Arsenal academy.
RELATED ===> Revealed: The Best Retro Arsenal Shirts
The Bottom Line: You Must Be Selected to Join the Arsenal Academy
Imagine how many emails the average Premier League club gets a day from prospective players asking how to join its academy.
No matter how good a footballer you actually are, emailing Arsenal and telling them so won't mean they will send someone to your house, pen in hand asking you to join the club's academy.
That is because they hear that every day of the week.
However, an Arsenal scout going to the club and telling them they've seen this amazing talent who the Academy should consider signing will hold a lot more weight…
Play For The Best Team You Can
Premier League academies are allowed to start playing 'development' matches from the age of under 7, but cannot officially sign players to the academy until the age of 8 to play at under 9 level.
If you can get your child along to the Arsenal Youth Academy for these development matches, and he stands out, then there is a chance when the club comes to choosing the first intake of players for the Academy at under 9 level that he might be selected.
But of course even the club themselves will admit that 9 years old is far too young to say for certain whether someone will be a good footballer.
Even at 14 or 15 years old it might not be clear.
Your best bet if you want to join Arsenal Youth Academy is to play for the best team possible in your area.
For instance, if you genuinely believe you are of the standard to play for a Premier League youth academy, and there is say a Conference or Conference South/North team near to you, make contact with them and ask for a trial or to train with them.
They are a hundred times more likely to say yes than Arsenal.
If you are that good then you will be accepted into their Youth Development squad.
Then everything is in your hands, if you make an impression at that level there is every chance someone from a higher level will try and poach you to join their youth academy.
Even if it isn't Arsenal, it will be another step up the ladder in the right direction.
These are just a few of the semi-professional clubs in London: Dulwich Hamlet, Hendon, Wingate and Finchley, Fisher, Haringey Borough, Clapton, Barnet, Boreham Wood, Hampton and Richmond, Beckenham…
There are a lot of options…
RELATED ===> How To Join Chelsea Youth Academy?
Keep Abreast of Open Days Or Soccer Schools Being Run by Arsenal
Like all Premier League teams, Arsenal also has a big presence in the local community.
This takes many forms such as charity work and working with the vulnerable and needy.
It also includes running soccer schools overseen by Arsenal affiliated coaches.
For instance each summer the club runs its Exsportise Summer School Residential Camps, with a programme designed by the Arsenal Lead Development Coach.
These camps are for 10 to 17-year-olds and are split into two sections:
Football Plus English Language Camps
This combines English language teaching with football training, with three hours of each every day.
Football Only Camps
If your English is good enough, this camp offers six hours of football every day.
The courses are for both boys and girls and are run over a period of 7 days at a number of locations.
The coaches who design and lead the programme are all at least UEFA B qualified, whilst all other coaches hold at least a UEFA licenced coaching qualification along with the English Football Association Youth coaching certification.
Full details can be found on the Arsenal Summer Camps website or the Exsportise Summer Schools website.
This is a great way to get the attention of coaches who are actually at the club, so keep your eyes peeled for news of any Arsenal soccer schools or open days.
A good place to keep tabs on is the Football Development section of the Arsenal website.
Make Your Own Video Reel
If you really want to make yourself stand out, and you have the equipment to do so, then you could consider making your own video reel demonstrating your skills.
The video above gives some useful tips on how best to do this.
Beyond anything else, it shows how dedicated you are to becoming a professional footballer.
RELATED ===> How to Join West Ham Youth Academy?
Be Aware of the Stats
The sobering stats are that of those who enter a football academy at the age of nine, less that 0.5% make a living from the game.
And of the 1.5million players playing organised youth football in England, only 180 will ever play in the Premier League.
Not quite one in a million, but still one in 10,000….
Whilst you might think joining an academy such as Arsenal's is tough, making it as a professional footballer is even more difficult.
It is important to remember this, but equally important never to give up if you think you are good enough.
Final Thoughts
You will need to be scouted by Arsenal to join their academy.
However, there are ways you can increase your chances of this happening, most notably by playing for the best team local to you.
If you aren't in Arsenal's academy ask Barnet or Dulwich Hamlet or Boreham Wood for a trial. You are much more likely to get a positive answer.
Then you will still be playing at a good level and a level where you can attract the attention of scouts from professional teams.
Also keep your eyes out for soccer schools organised by Arsenal themselves, again you will then come into contact with coaches affiliated with Arsenal.
Above all else don't give up.
Miroslav Klose was playing in the 5th tier of German football whilst working as a builder and bricklayer at the age of 20, he ended his career as Germany's all-time top goalscorer and the all-time leading goal scorer in FIFA World Cups.
That shows you anything is possible.
---