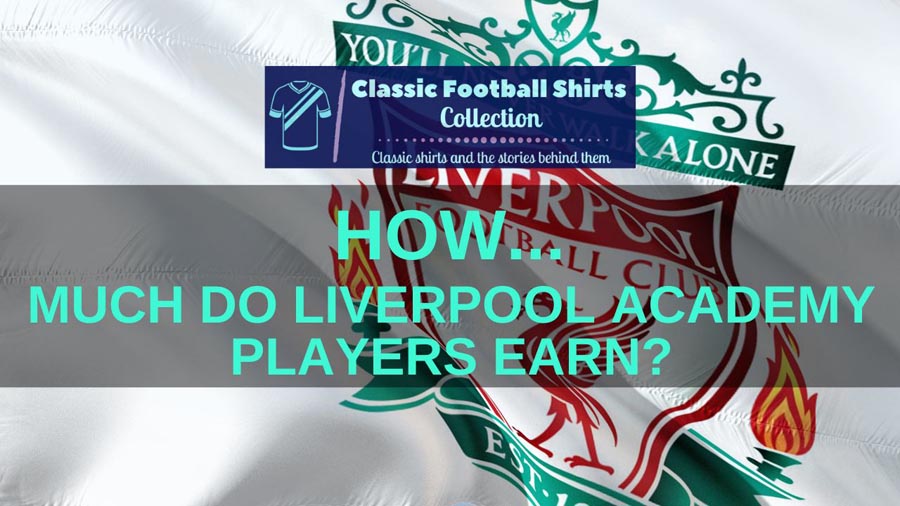 Some fantastic players have come through the Liverpool Academy over the years.
From Carragher, Owen, Gerrard and Fowler back in the day through to Trent Alexander-Arnold and Curtis Jones now.
But how much do Liverpool academy players earn?
Let's find out and take a look into the world of academy football…
How Much Do Liverpool Academy Players Earn?
Liverpool academy players are not paid until they sign a scholarship agreement at the age of 15. Then they will be paid £165 as a first-year scholar and £175 as a second-year scholar. These figures are not specific just to Liverpool, but all clubs. A player can sign a professional contract at 16 that comes into effect when they turn 17 and will pay much more than a scholarship wage!

What is an Academy Player?
First things first, do you know what actually constitutes an academy player?
It is an important question as in 2020 a number of changes were made to regulate the pre-academy and academy system.
Let's take a quick look at those changes, and what can happen at various age groups (note a club can have a maximum of 250 players in its academy).
Any age: Clubs can coach players.
From U7s: Players can play matches.
From U9s: Clubs can officially register players for their academy on schoolboy forms. These will usually be reviewed every year and either extended or terminated depending on whether the club is happy with the progress of the player or not.
Players aged 9 to 12: Must live within an hour of the club they are signed for.
Players aged 13 to 16: Must live within 90 minutes of the club they are signed for.
Aged 14/15 (depending on when born in the year): Players can be offered a two-year Scholarship agreement.
Aged 15/16 (depending on when born in the year): An academy player can be offered a professional contract.
Age 17: If a professional contract has been signed, it officially starts when that player turns 17.
That means from the age of 9 to 17 a player can officially be part of a club's academy. So broadly speaking:
Aged 9 to 15: Will not be paid.
Aged 15 to 17: Will earn a wage as an academy scholar.
Aged 17 and upwards: Can have a professional contract that will pay more than their wage as an academy scholar.
But I know what you are all here for, to find exactly how much academy scholars earn…
RELATED ===> Revealed: The Best Retro Liverpool Shirts
Being An Academy Scholar: The Financial Details
So let's say you've been at a Premier League club from the age of 9.
You moved up each year through the academy without a problem.
You get to the age of 15 and the club wants to keep you on and formally offers you a two-year scholarship agreement.
You might think you have hit the big time now right?
Not quite…
Academy scholars are paid £165 in their first year and £175 in their second year.
And this applies to every club, whether you are playing for Liverpool or Leyton Orient your wage will be the same.
Of course, that doesn't sound like a lot, and it isn't, but you must remember that the club will also take care of your rent, travel expenses, food, etc, etc.
One thing the club can't do is offer you any financial inducements above and beyond your scholarship wage.
Then of course there are boot deals and other sponsorship opportunities as well as money-making opportunities via social media etc.
RELATED ===> Why Do Liverpool Have Two Badges?
What Happens Next? Signing a Professional Contract
So we know that Liverpool's academy scholars earn £165 in their first year and £175 in their second year.
Now imagine you are one of the best scholars at the club and the club doesn't want you to leave, what happens next?
From 1 January, the club can offer an academy player in the under-16 age group a professional contract, that will start when they turn 17.
If you are an exceptional talent it is likely you will be offered a long-term contract of four or five years.
If you are on the borderline, you might be offered a one-year contract so the club can see how you develop over that year, and then offer you a contract extension or release you.
Either way, you will be earning a lot more than £175 per week!
But how much?
Well, Liverpool actually hit the headlines a few years back when they announced a wage cap for any player in the first year of a professional contract.
They revealed that any player in the first year of their senior contract will not earn a basic wage of greater than £40,000.
There could be bonuses on top of that such as appearing in the first team or U21 team they revealed.
This led to other clubs such as Tottenham and Southampton following suit.
This decision was actually made back in 2016, so has the club stayed true to its promise?
Well to answer that I took a look at the Salary Sport website, which usually gives a fairly accurate insight into the wages of professional footballers.
And it does seem the wage cap remains in place.
RELATED ===> Have Liverpool Ever Won The League Without A Scotsman?
The club's top-earning 17-year-old according to the site is Fabian Mrozek, who is on a yearly salary of £42,640.
Harvey Davies and Harvey Blair follow close behind on £41,600, with James Balagizi earning £40,560.
Every other player in the first year of their professional contract earns just under £40,000.
Now obviously this is still a huge wage for a 17-year-old in any other industry, but considering the potential riches on offer at a Premier League club, it is fairly restrained.
Final Thoughts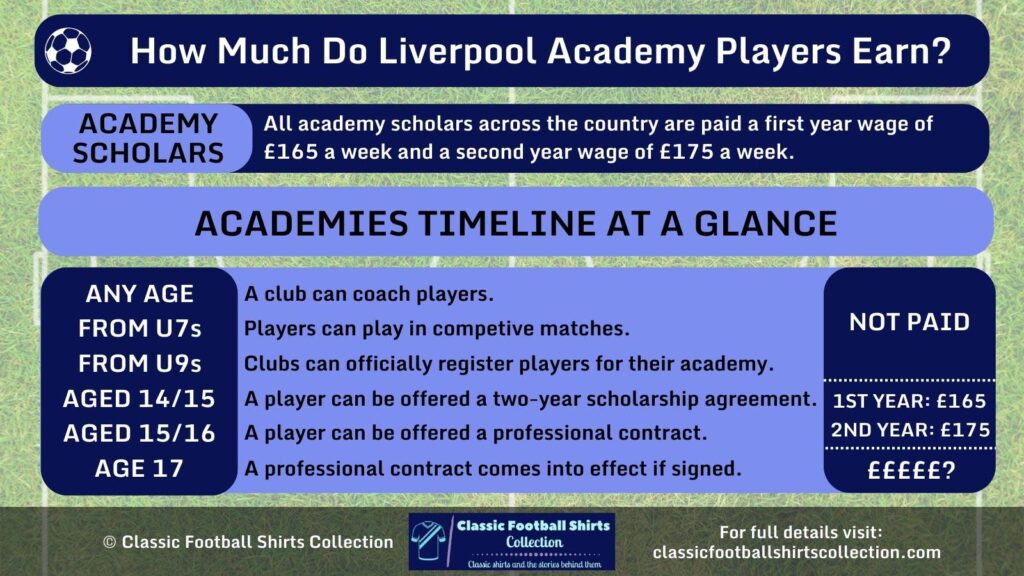 A Liverpool academy player will earn nothing until they sign academy scholarship forms.
Then, as you can see from our infographic, they will earn £165 as a first-year academy scholar and £175 as a second-year academy scholar.
That figure isn't specific to Liverpool, but to every academy scholar in the country.
That is probably a lot less than you might expect, but on top of that players might earn extra money from sponsorship and social media deals.
And the club will also take care of their lodgings, food, transport, etc.
Of course, that figure will change drastically if a player is lucky enough to be offered a professional contract.
But even then some Premier League clubs, including Liverpool, are introducing wage caps to "find a solution to the too much, too young culture in the football world".
---