The insect takes pride of place on the club badge, but have you stopped to wonder why Brentford are called the Bees?
The nickname actually goes back, a long, long way, and the story behind it is quite interesting.
Why are Brentford called the Bees?
Let's find out!
Why Are Brentford Called The Bees?
Brentford's nickname of the Bees dates way back to 1894 when a group of Borough Road College students turned up at a game to support their fellow college student and Brentford player Joseph Gettins. During the game they used their college chant "Buck Up Bs", local press present mistook it for "Buck Up Bees", and used it in print. The nickname would go on to stick like honey!

Brentford FC: The Early Years
Brentford was established way back in 1889, and the defining moment that gave the club the nickname it has today occurred five years later in 1894.
We will come onto that shortly, but for now let's quickly look at what happened in that first half a decade.
In the late 19th-century association football was just getting popular.
Many football clubs were actually formed from cricket clubs, as a way of keeping their players together over the winter months.
Brentford however, are a different story.
Brentford FC was formed from a rowing club. The club members got together to form the team to make use of a new recreation ground that had just opened in the town on Clifden Road.
For their first three seasons, Brentford largely played friendly games or cup games, it wasn't until the 1892/93 season that they entered a league for the first time, the West London Alliance.
By now the club had moved from the Clifden Road recreation ground to Benn's Field in Little Ealing.
That first season in an organised league was an undoubted success, Brentford finished top of the seven-team league winning 10 and drawing two of their 12 games.
However the board were upset that they were not awarded a trophy, so didn't enter the league the following season!
Brentford went back to competing in friendlies and cup matches, before its nickname-creating moment came in 1894…
RELATED ===> Revealed: The Best Retro Brentford Shirts
The Bees Take Flight
The reason Brentford are called the Bees is all down to a group of Borough Road College students who turned up at a game to lend a little support to their friend and fellow student Joseph Gettins who played for Brentford.
The friends transferred their college's traditional chant across to the football and started shouting "Buck Up Bs" at a match.
The B at the end of the chant stood for either Borough (in the college scenario) or Brentford (when the students were at Brentford games).
The local press present mistakenly interpreted the chant as "Buck Up Bees", and started referring to it in match reports, with it even making the headline on a few occasions.
The name stuck and Brentford have been known as the Bees ever since.
Other Theories
A couple of other theories for the nickname have circulated, namely:
It caught on after the release of the 1936 Thomson Adventure Football Stamp Album, which referred to a Brentford victory as "Busy Bees beat bewildered opponents by brisk and brilliant bombardments".
It was taken from a local brewery known as 'The Beehive' that was located a stone's throw from the club's long-time Griffin Park home.
But, there is proof that the nickname was in use well before 1904 (when Brentford moved to Griffin Park) and definitely before 1936.
So it really does seem like the nickname is all down to a group of young students and their friend Joe Gettins.
RELATED ===> Why Are Watford Called The Hornets?
Whatever Happened to Joseph Gettings?
Although Joseph Gettins is a key figure in the adoption of Brentford's nickname, his spell with the club was a short one.
Gettins played for Brentford during the 1894/95 season when he was a student at Borough Road College.
After leaving Brentford he played for Millwall where he really showed his goal-scoring prowess, notching 69 goals in 71 games.
In a successful period there he was also part of the team that won two consecutive Southern League titles and made two FA Cup semi-finals.
After that he had a number of spells with his hometown club Middlesbrough, playing in the First Division with them and taking to the field in the club's first even Football League match against Lincoln City on 2 September 1899.
Two years before that, Gettins had been part of another historical event. In 1897, he was one of 14 players playing for Corinthians who went on a tour of South Africa. They were the first English team to play outside Europe.
The tour was a successful one too, if not a little gruelling, the team travelled across the country and played 23 games in just 58 days!
More remarkably they won 22 of them, the only blemish being a 2-2 draw with Natal.
In 1914 the First World War broke out and a then 41-year-old Gettins served as a Captain in the Army.
After the war he worked in a number of teaching roles before returning to the Army to became Chief Education Officer of the Army Education Corps.
He retired in 1933 when he was 60 and was awarded an OBE that same year.
Gettings died in East Molesley on 6 June 1954. He was 80 years old.
Final Thoughts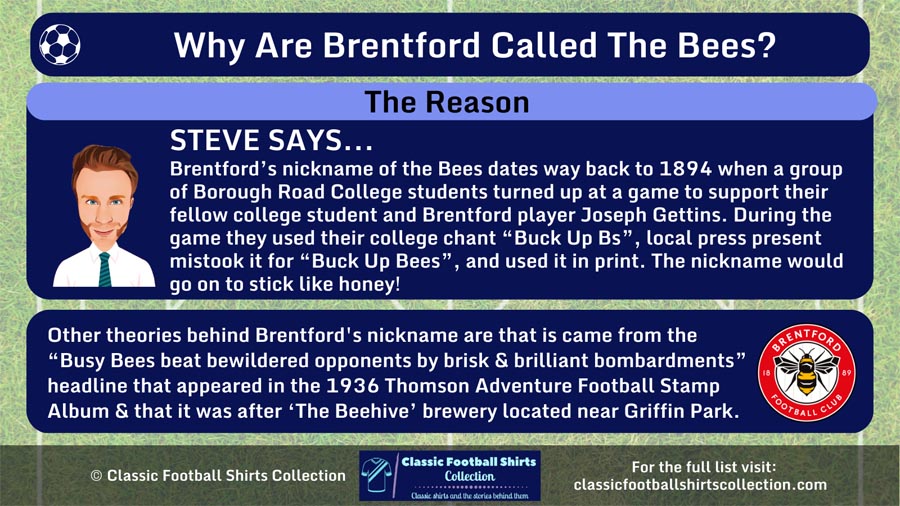 So there you have it, Brentford are called the Bees as a result of the local press misinterpreting a chant by some Borough Road College students at a game in 1894.
They mistook the chant "Buck Up Bs" for "Buck Up Bees", and carried a match report making reference to the chant as such.
From there it took on its own life, so much so that fellow supporters began using the chant, and it soon became the club's official nickname.
That is also why the club has a bee on its badge.
And as of 2022, Thomas Franks' Bees are well and truly buzzing! Sorry…
---