The memory of walking out with your heroes in front of tens of thousands of supporters is something that will stay with you forever.
That is undoubtedly why being a mascot for a Premier League game is so sought after.
And it is one of the most successful teams in the Premier League today we will be focusing on today.
Do you want to know how to be a mascot for Arsenal?
Let's find out.
How To Be A Mascot For Arsenal?
To be a mascot for Arsenal you must be a Team JG member, which is open to anyone aged between 4 and 11 years old. Once you are a Team JG member your name will automatically be entered into a draw before every home game with the winner being selected as a mascot for the game.
How Much Does It Cost To Be A Mascot For Arsenal?
You don't have to pay for the privilege of being an Arsenal mascot, so to speak.
But you can't be an Arsenal mascot, without spending some money.
That sounds a bit confusing, so let me try and clarify what I mean.
The Criteria For Being a Mascot For Arsenal
There are two requirements that will qualify you for being in with a chance of being a mascot for Arsenal:
You must be aged 4 to 11 years old.
You must be a Team JG member.
Everyone who meets the above criteria will be entered into a prize draw before each home game. The name selected will be the mascot for the next game at the Emirates.
Team JG Membership
Anyone aged between 4 and 11 years old, can become a Team JG member.
At the time of writing the cost of membership is £20 for a full membership or £15 for a lite membership.
Aside from giving you the opportunity to be an Arsenal mascot, being a Team JG member does bring a number of other perks, namely:
A membership pack including a drawstring bag, a pencil case, and a bobble hat. *NB – those who choose the lite membership will not receive this.
A free Emirates Stadium tour.
Access to discounted tickets in the family enclosure.
Invitation to a variety of events including family fun days and a behind-the-scenes visit to Arsenal's Training Centre.
A 10 percent discount in the Arsenal online store and on stadium tours.
A monthly e-newsletter.
You can find more details on how to be a team JG member on the Arsenal website.
RELATED ===> Revealed: The Best Retro Arsenal Shirts
Is There Any Other Way To Be A Mascot For Arsenal?
At selected fixtures, such as the Emirates Cup and Arsenal's Ladies' games the club does run open ballots offering anyone applying the chance to be a club mascot.
To keep abreast of these opportunities it is best to regularly check the Arsenal website or follow the Arsenal Facebook page.
What Do You Get When You Are a Mascot for Arsenal?
The mascot experience is most definitely one to savour for any young fan. You will meet your idols and walk out onto the turf with them in front of a full house at the Emirates.
Then on top of that, you will also get the following:
The opportunity to go behind the scenes and greet the teams as they arrive.
A full Arsenal kit.
Two complimentary match tickets for the game.
Food and drink vouchers.
A free programme.
A mention in the programme and over the matchday PA system.
On an on-field photo opportunity.
It is an experience no young fan will ever forget.
Does Arsenal Have An Official Mascot?
Arsenal has one of the more memorable Premier League mascots, the eye-catching green dinosaur Gunnersaurus.
So who was behind this now legendary creation? Some cutting-edge marketing company? A clever design guru?
No, an 11-year-old Arsenal fan called Peter Lovell won a competition to design a new mascot!
Peter Lovell has since said he "came up with the concept because he felt the Gunnersaurus embodied the 'ferocity' the club stood for".
Gunnersaurus was unveiled on 20 August 1994, for the opening game of the season against Manchester City, with Peter joining his creation on the pitch as a reward.
In October 2020, after 26 years of service, there was a huge furor when Arsenal made Gunnersaurus redundant as a cost-cutting measure.
Less than a month later the club announced Gunnersaurus would be returning to Arsenal following the public outcry.
Final Thoughts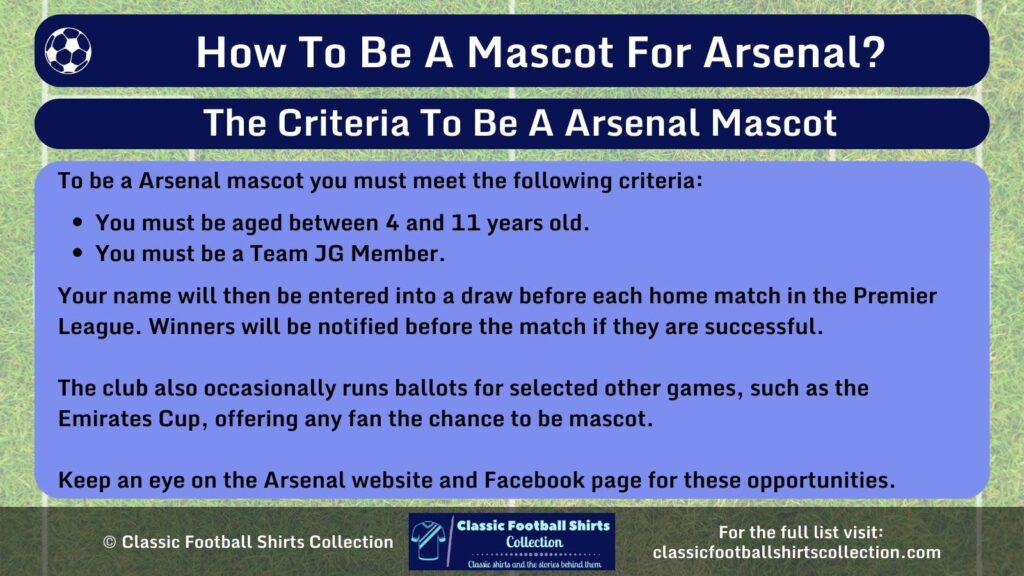 To be in with a chance of being a mascot for Arsenal it is pretty simple.
Pay a small price to become a Team JG member, something that is open to anyone aged between 4 and 11 years old, and then be lucky enough to have your name pulled out of the hat in the club's random draw before home games.
You can also keep your eye on the club's website and Facebook page for the occasional ballots they run that are open to all supporters for selected other games including the Emirates Cup.
And that is it.
Good luck!
---