Want to buy some retro Sunderland football shirts? read on…
TEAM INFO
Team: Sunderland Association Football Club
Nickname: The Black Cats
Team Colours: Red and White Stripes
Year Founded: 1879
Stadium: Stadium of Light
Location: Sunderland, England
BROWSE RETRO SUNDERLAND FOOTBALL SHIRTS
If you want to relive the days of Montgomery, Clough, Quinn, Phillips or Rowell and look at retro Sunderland football shirts there are plenty of options available to you:
---
STEVE SAYS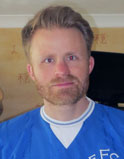 Sunderland seemed to me to be not such much a sleeping giant as I was growing up, but more like a very big lad taking a nap. One of the best games I have ever seen was the 1998 Play-Off Final where they lost 4-3 to Charlton, but after that, for a few seasons they gave their supporters something to shout about winning the Championship and having a couple of decent seasons in the Premier League. Steve
Favourite player: Kevin Phillips – had two or three really amazing seasons around the turn of the millenium.
Favourite kit: The 1978 home shirt – simple and classic retro design, typical 70s. Available from Kitbag (see below for link)
BUY FROM: CLASSIC FOOTBALL SHIRTS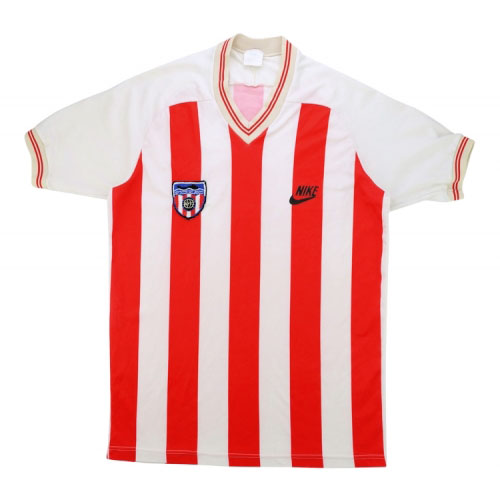 Classic Football Shirts set themselves apart from many other companies by the fact that their shirts are all original shirts from the dates listed, not reproductions trying to replicate a classic shirt. All shirts come with condition details – ie whether they are in Mint Condition, As New, etc, etc. The prices are slightly higher but you are really getting a piece of history.
They have over 150 classic Sunderland shirts from 1983 to the present day including the 1983-86 home shirt (above).
This period saw Sunderland reach their first and only League Cup Final in 1985, where they lost to Norwich 1-0. Unusually both Norwich and Sunderland were relegated from the First Division at the end of the season.
Sunderland didn't fare much better in the 1985-86 season despite their relegation, finishing 18th in Division One, narrowly avoiding a second successive relegation.
You can also get a 1988-91 home shirt, worn the season after the lowest point in Sunderland's history – their one season in the third tier of English football.
They were immediately promoted back to the Second Division for the 1988-89 season, where they finished 11th. The following season they finished 6th which qualified them for the play-offs.
Sunderland beat their rivals Newcastle in an epic semi-final – drawing 0-0 at Roker Park and then travelling to St James Park where they won 2-0. They then actually lost to Swindon in the Play-Off Final, but were promoted in place of Swindon after the Wiltshire club were convicted of financial irregularities.
Find out more about the Classic Football Shirts selection of retro Sunderland shirts
**GET 10% OFF WHEN ORDERING FROM CLASSIC FOOTBALL SHIRTS THROUGH MY LINK**
Click on my link above and add something to your basket. Hover over the footballs hanging in the top right corner and click on 'Basket' from the subsequent menu that pops up.
Enter CFSPJ10 in the 'Discount Codes' box and receive 10% off of your order!
BUY FROM: VINTAGE FOOTBALL SHIRTS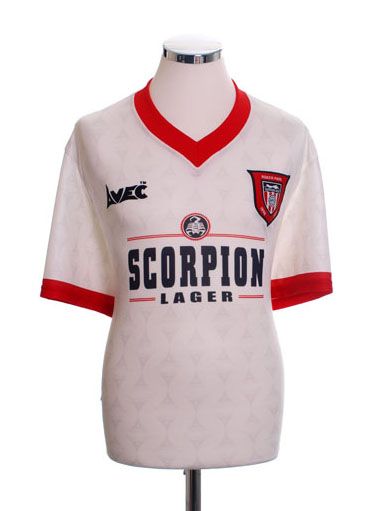 Vintage Football Shirts also offer original shirts rather than reproductions with each shirt marked for its condition – from BNIB (brand new in bag) to Excellent (may have tiny defect, may not be noticeable).
With nearly 50 Sunderland shirts ranging from 1991 to the present day – you are sure to find something you like such as the classic 1991-94 home shirt worn when Sunderland made the FA Cup Final when they were in the Second Division in 1992.
Despite finishing 18th in the second flight that season they made a good fist of the Cup Final, against Liverpool, eventually going down 2-0. Their squad was notable for being the last that featured only British Isles born players in the FA Cup Final.
The following season, 1992-93 they finished 21st in the Second Division – just a point above relegation and then finished 12th in 1993-94.
You can also get the unusual plain white 1996-97 away shirt (above), emblazoned with sponsor Scorpion Lager's name across the front.
The shirt was worn during Sunderland final season at Roker Park. It wasn't to be a fitting finale as the club were relegated from the Premier League. In a tight end to the season seven teams all finished within three points of each other and Sunderland (along with their rivals Middlesbrough) were relegated on the final day of the season.
An indication of where the Black Cats problems fell can be shown by the fact their top goalscorers, Paul Stewart and Craig Russell, finished with just four goals each.
Find out more about the Vintage Football Shirts selection of retro Sunderland shirts
---
CLASSIC SUNDERLAND MOMENT
Sunderland complete one of their best seasons ever – winning promotion to the Premier League in 1999 with 31 wins from 46 games, 3 defeats, 91 goals and 105 points!
---
BUY FROM: AMAZON
Amazon have a great selection of retro Sunderland shirts including my favourite, the 2000 home shirt (above). This was worn as confidence was at a high around the club after winning promotion to the Premier League with a record 105 points in the 1998-99 season.
Their comeback season was a great success, finishing seventh in the Premier League thanks largely to the goals of Kevin Phillips – he scored 30 league goals and won the European Golden Shoe. In fact they missed out on European football on goal difference only.
Find out more about the selection of retro Sunderland shirts on Amazon
BUY FROM: KITBAG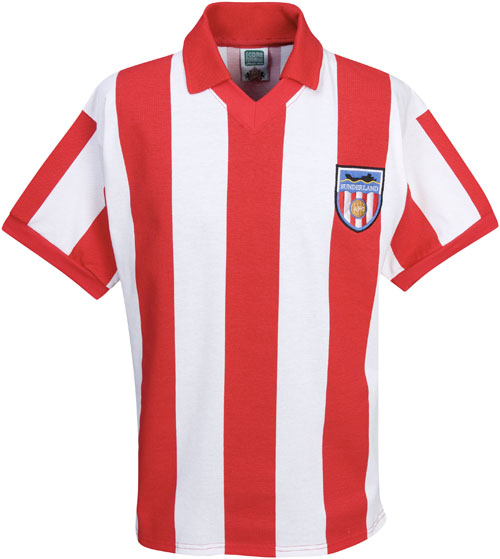 Kitbag have six great retro Sunderland shirts, the pick of which is the 1978 home shirt (above).
This lovely vintage shirt saw the Black Cats miss out on promotion back to the top flight on goal difference, having a goal difference one worse than third place Stoke City. They made up for this disappointment the following season when they finished second.
Prolific during this period was Gary Rowell who eventually scored 102 goals by the time he left in 1984 – which was a post war club record at the time (it was later surpassed by Kevin Phillips).
Find out more about the Kitbag selection of retro Sunderland shirts
BUY FROM: TOFFS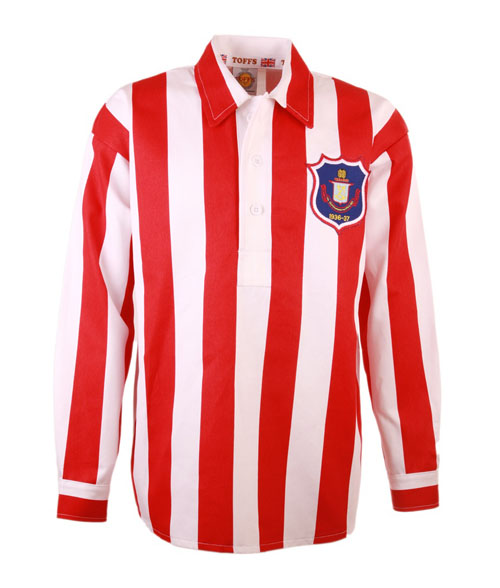 TOFFS (which stands for The Old Fashioned Football Shirt) specialise in handcrafted, vintage football shirts made to the highest quality in the North of England – with each shirt as close to the real thing as possible.
TOFFS have three great vintage Sunderland shirts. In particular I like the 1937 FA Cup Final shirt (above). Sunderland started the season as defending champions but eventually finished eighth.
They did however win the FA Cup Final – beating Preston North End 3-1. Bobby Gurney scored the first goal and Gurney is the highest goalscorer ever for Sunderland with 205 league goals in 348 games.
The second goal was scored by Raich Carter, an England International who also played county cricket. The Cup Final was also the first ever to be played in May, prior to this they had been played in April.
Find out more about the TOFFS selection of retro Sunderland shirts
---
So there you have it. If, like me, you are a lover of football and all things retro there are a huge selection of classic Sunderland shirts you can pick up to revel in the nostalgia of days gone by!
SEE WHAT OTHER CLASSIC FOOTBALL SHIRTS ARE AVAILABLE
Save
Save
Save
by